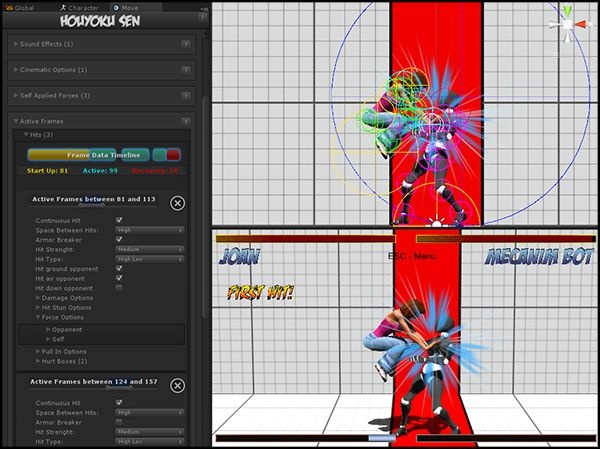 U.F.E. (PRO)
*PRO VERSION 1.8.5*
http://www.ufe3d.com/doku.php/changelog
Universal Fighting Engine (or U.F.E.) is a toolkit designed to help you develop your own 2.5D/3D fighting game, using a highly customizable framework and easy to use visual editors. For more information, visit
http://www.ufe3d.com
Demo:
http://www.ufe3d.com/demo
Those who studied fighting games have probably realized just how complex the smallest thing is when dealing with game balancing and frame data, not to mention the highly complex aspect of hitboxes and unique physics. That's where Universal Fighting Engine comes in. UFE gives you a 2.5D open fighting game engine ready to use with a highly customizable framework and easy to use tools similar to those used by Capcom, Double Helix and NetherRealm. No coding knowledge necessary.
Feature Spotlight:
- Robust Move and Character editors
- A.I. Support
- Precision Hitboxes
- Story Mode
- Mecanim and Legacy Animation Support
- Combo system
- Support for Throw/Grappling moves
- Custom Input Manager
- Cinematic move editor
- Easy to use Visual Tools
- Open source GUI scripts on all versions of U.F.E.
- Easy 3rd party implementations
- Over 100 animations included
- 2 ready to use characters
- Several free to use sound effects and music files
- For a full list of features visit
UFE3D.com
Addons/Compatible extensions:
- Fuzzy A.I. (professional ai):
http://tinyurl.com/mek5wwt
- P2P Network: 
http://www.ufe3d.com/doku.php/global:network
- cInput (custom input manager):
http://cinput2.weebly.com/
- Control Freak (mobile controls):
http://tinyurl.com/p4rhadq
Other links:
- Videos:
http://www.ufe3d.com/videos
- Official Forum:
http://www.ufe3d.com/forum/
- Upcoming Features:
http://www.ufe3d.com/doku.php/upcomingfeatures
- Unity Thread:
http://tinyurl.com/lnylwms
* The Pro version has the core of the engine compiled.
You'll get 1 file (91.9MB)
More products from Mind Studios