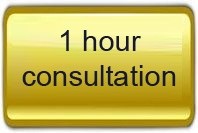 SALE 1 hour consultation
SALE!
Was $129.99/ Now only $120.99

Please call us at 623-340-3436 to schedule your consultation, leave your name, the reason for your call and one of our reps will call you back as soon as possible.
*You MUST leave a voice mail or your call will not be returned.
*We do not answer calls from hidden phone numbers so please call on a normal phone line.


Office Hours:
Monday - Friday
10:00am-5:00pm

Refund Policy: no refunds
Terms and Conditions apply.
You'll get 1 file (12.0KB)
More products from Solutions For My Life