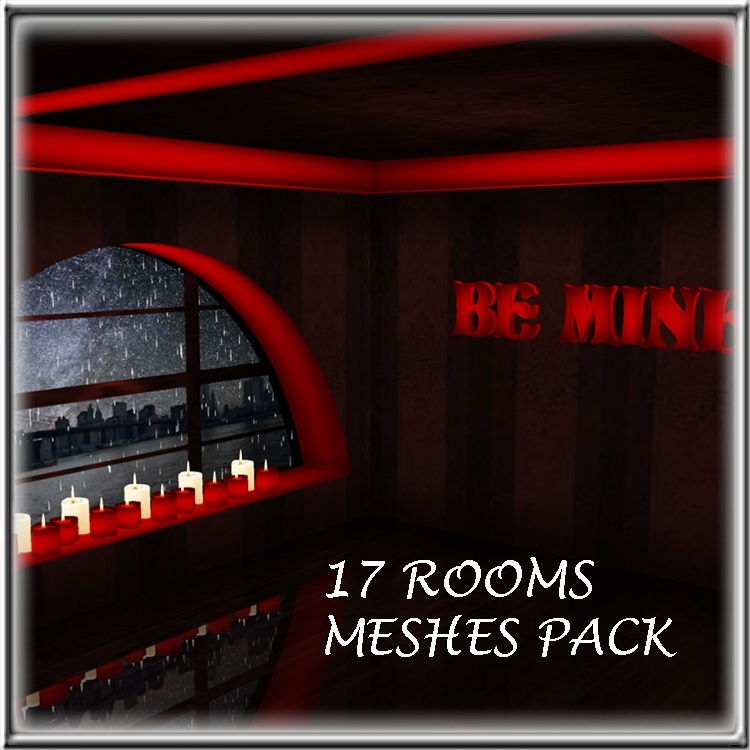 17 ROOMS MESHES PACK
The Pack includes 17 rooms meshes ,you can check them all on my catalog 
I have a list made with all the meshes in the pack,so if someone wants the list ,let me know and I`ll send it.
Here is the list :
Rooms:
Reading Nook Room Semi-Furnished Mesh
-Furnished Cozy Romantic Room 7 Couple poses
-Small Cozy Reflective Room
-Tiny Attic Room Mesh
-Be Mine Room Mesh
-Small Cozy Attic Mesh
-Heart Candle Reflective Room 1 couple pose
-Small Kids Room Mesh
-Snowy Cabin Room Mesh
-Haunted House Mesh
-Titanic Iceberg Room
-Tiny Attic Room Reflective Mesh
-Cozy Bedroom Mesh.
-Fireplace Loft Mesh.
-St.Patrick's Day Room Mesh
-Happy Easter Room Mesh
-World of Flower Room Mesh 
Mesh can be tried here : 
http://www.imvu.com/shop/web_search.php?manufacturers_id=63385647
You'll get : .chkn file/s,textures or / and uv's ,all needed .
LICENSE:
Can be used only for IMVU content.
Can't be used on multiple accounts,except if you buy for it.(your IMVU account name is needed )
Can not be resold or redistributed in part or whole as stock.
Can not be used in whole or part of an IMVU mesh stock file.
Do NOT claim any of my files as your own
Do NOT share,gift,trade,sale,give any of my files
All meshes are made by me All rights reserved©Emes.
DO NOT RECOLOR MY TEXTURES THAT YOU BUY WITH MY MESH ,AND SELL THEM ,MAKE YOUR OWN TEXTURE!!!
DO NOT CHANGE THE NAMES ON MY .XMF ,.XSF,ETC FILES.
NO refunds accepted,you can TRY before you buy,mesh is "as is" and will NOT be modified.
BY BUYING THIS FILE YOU AGREE WITH ALL THE TERMS OF THE LICENSE.
Any violation in these terms will result in a DMCA being filed. 
     →I do make custom meshes,contact me if interesed←
You'll get a 24.5MB .ZIP file.
More products from Emes