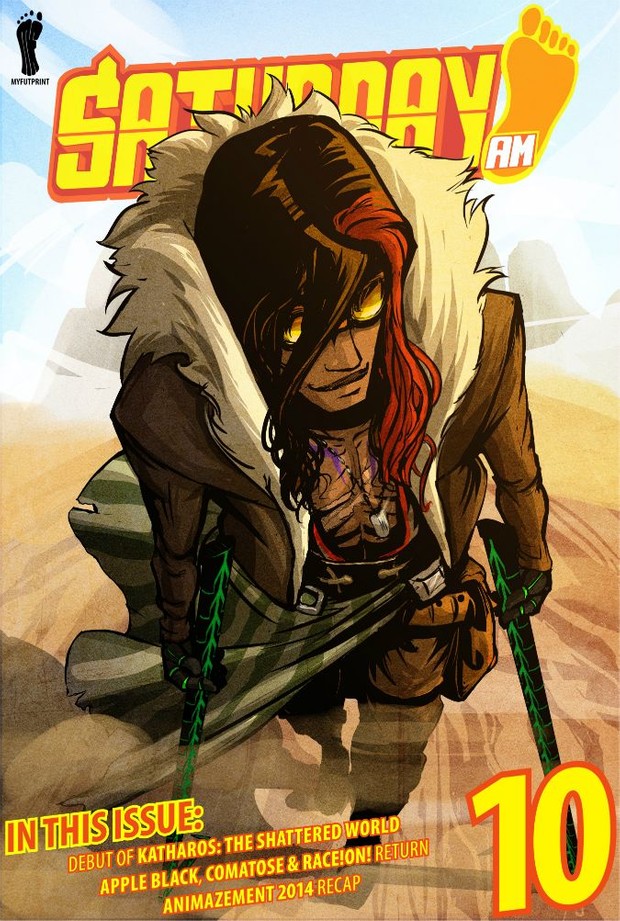 Saturday AM #10
"I remember that day so clearly..." and so will you!!!

After all, how can you forget the day you got ISSUE 10 of the hottest manga anthology, Saturday AM?? Not only is the first double digit in our short but unflinching revolution on the world of manga webcomics but especially not when it includes the MIGHTY RETURNS of COMATOSE by Wally Nguyen, RACE! ON! by Mario Savovski and APPLE BLACK by Whyt Manga?

But those are not the BIGGEST REASON THIS ISSUE ROCKS -- that honor belongs to Beverly Toole--creator of KATHAROS: THE SHATTERED WORLD! This extraordinary symphony of badassery features unbelievably slick artwork, an amazing story and one of the coolest new characters in online manga. You will be enthralled by Joe, the courier who stars in this FULL COLOR new series for Saturday AM and adorns this issue's brilliant new cover.

Add to that--an interview with Ms. Toole herself and an overview of our VERY FIRST CONVENTION -- ANIMAZEMENT 2014 --(featuring an interview with fellow guest of the show, K.L. THOMPSON) and you just can't help but treasure this issue as one of our absolute best yet!

So, what are you waiting for? It'll be sunday before you know it---so get reading!!!
You'll get 1 file (43.4MB)
More products from Saturday AM