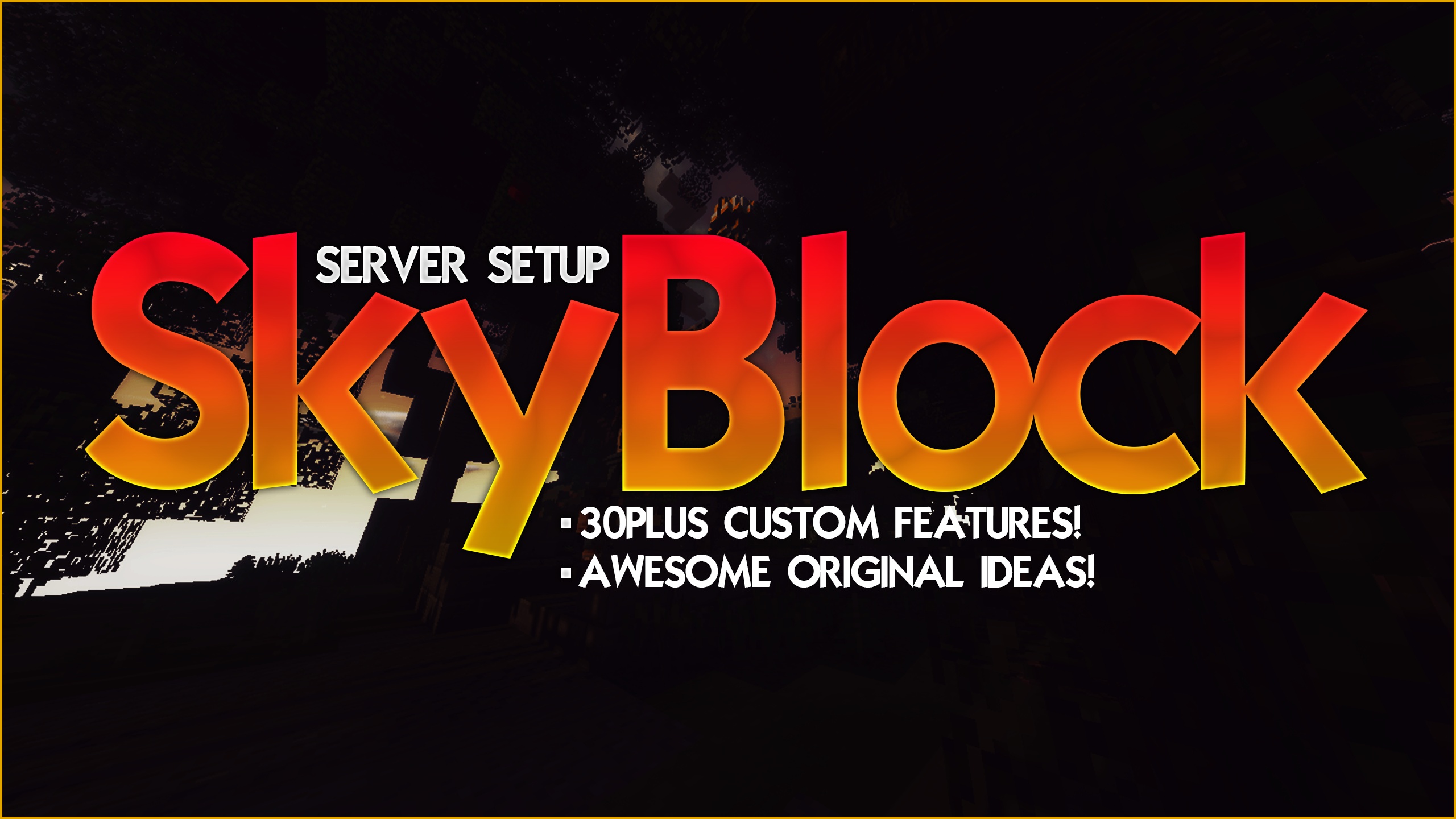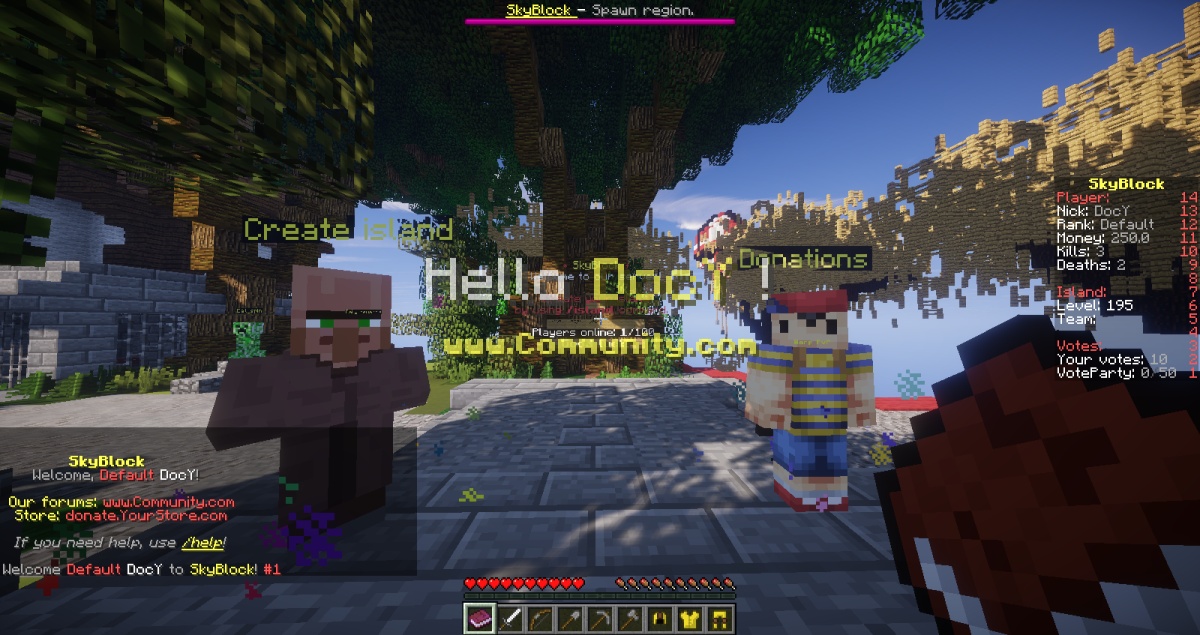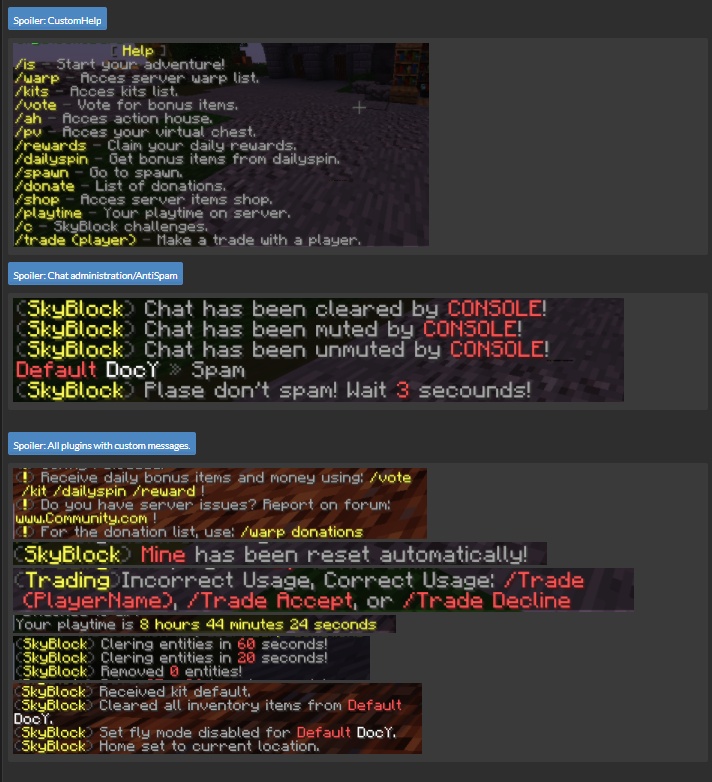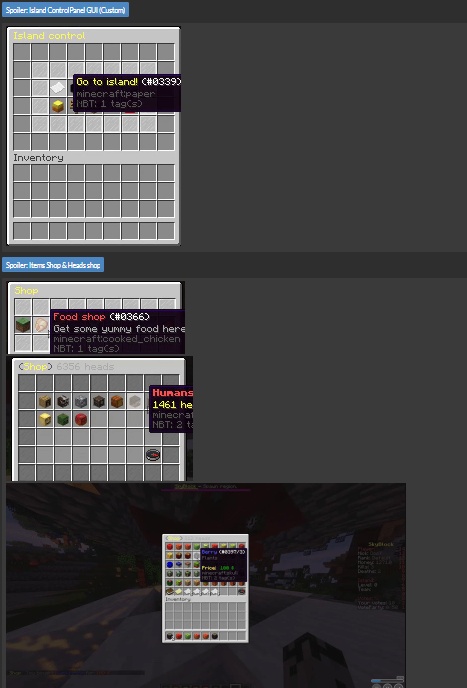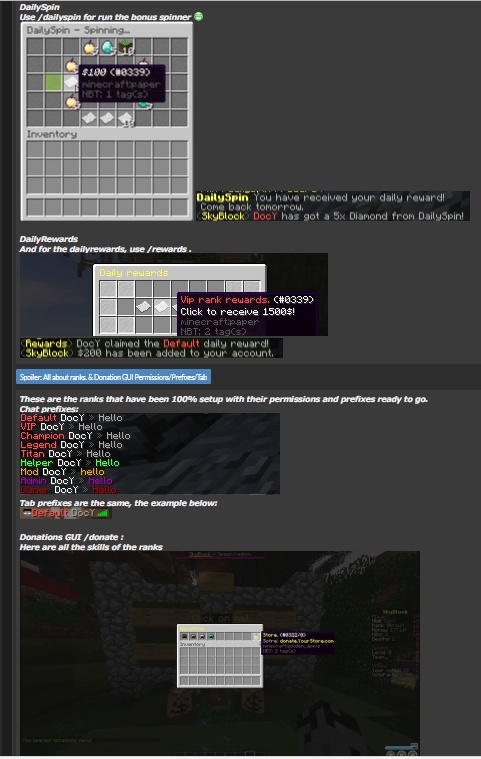 ✮ SkyBlock setup ✮ Heads Shop◦Custom Menus◦DailySpin & DailyRewards◦Custom Builds & more... 1.0
Hello. Today i selling a awesome skyblock setup.Version: 1.0 Photos & informations here:  
http://www.mc-market.org/resources/4449/
Features:
• All plugins with custom messages.
• Cumstom GUI menus. (/warp , /donate , /kits , /is cp , /rewards)
• Information book on start.
• ChatGames.
• Heads shop. /warp shop
• VoteParty system.
• Dailyspin. Awesome idea for dailybonus for players. (/dailyspin)
• 3 Type of islands (Easy,Normal,Hard) (6 different customized islands).
• Custom island control panel. (/is cp)
• Custom donators kits/permissions/commands. (x4 Donator ranks: VIP,Champion,Legend,Titan)
• Ranks daily rewards. /rewards
• Mistery crate, afer voting you getting key for this crate.
• Custom bossbar on spawn region.
• Custom TAB prefixes.
• Chat administration.
• Vote System. Type /vote for daily rewards.
• Public mine for all active players.
• Ranks acceses and Kits preview. If you want to donate you can use, /donate and /warp Kits. To see what skills have ranks.
• Trading sistem. By using /trade (player) ,you can trade with a player.
• Auction. Use /ah for acces the auction system.
• NPCs.
• FeatherBoard. Awesome featherboard configurations, for see your status. (island level,kiils,deaths and more.)
• CustomHelp. Custom help list /help
• PlayTime.
• AntiPvPLog
• VirtualVauls. Type /pv for open your virtual chest/vault.
AND MORE,MORE AWESOME FEATURES..
You'll get a 60.5MB .ZIP file.
More products from DocY (Server setups.)