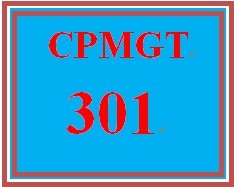 CPMGT 301 Week 2 Project Activities And Sequencing Scenario
Entire Course Link
https://plus.google.com/u/0/108200033792883877670/posts/dWT4sDYbQKM
 CPMGT 301 Week 2 Project Activities And Sequencing Scenario 
Resource: Scenarios
Choose a scenario from the Student Materials, Scenarios.
Title the paper with the scenario title.
Write a 350 to 700-word paper in which you:
Define activities for a project based on the scenario you choose.
Include the following:   
Identify the scope of the project.  
Define the needs of the stakeholders.  
Create a WBS for the project.  
List necessary tools and techniques.  
List activities, activity attributes, and milestones for the project.  
Sequence the activities in a chart or diagram.  
Use at least two credible references. NB: Wikipedia, eHow,
businessdictionary.com
and the like are not acceptable academic sources.
Format your paper, including the chart or diagram, consistent with APA guidelines.
Click the Assignment Files tab to submit your assignment.
You'll get 1 file (155.0KB)
More products from UopTutorials