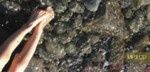 The Baron Baby short fiction single(Janis Spence) by Janis Spence
Narrated by the author Janis Spence
Listening Time: 43 minutes

The Baron Baby is a short fiction single from On the Beach in Spanish Room, an EarPhones award winning collection of short stories by Janis Spence, available as an MP3 audio book CD and an MP3 digital download.


This Canadian audiobook was recorded and produced by Rattling Books in Newfoundland and Labrador.
You'll get a 27.4MB .MP3 file.
More products from Rattling Books audiobooks