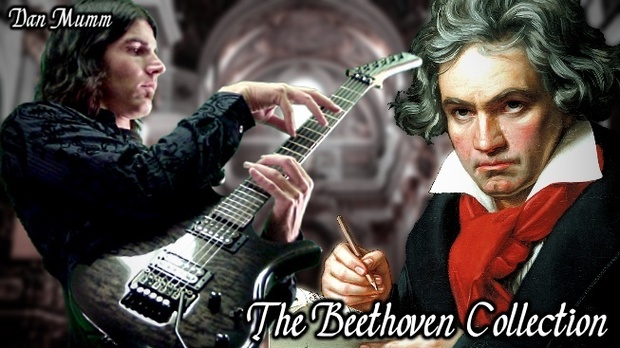 The Beethoven Collection - Classical Metal Songs, TABs and Backing Tracks - Dan Mumm
The Beethoven Collection includes:
+ 5 Song Metal Beethoven EP (Mp3 format)
+ 5 Complete Guitar Tabs (PDF format)
+ 5 Complete Guitar Tabs  (Guitar Pro format)
+ 5 Complete Backing Tracks (Mp3 format)
+ Bonus 3 Song Sampler
**An $18 Value**
Ludwig van Beethoven was a deaf German composer and the predominant musical figure in the transitional period between the Classical and Romantic eras. He was an innovator, widening the scope of sonata, symphony, concerto and quartet, and combining vocals and instruments in a new way.
The Beethoven Collection focuses on 5 of his greatest pieces arranged for electric guitar in the Neo-Classical Metal style:
1. Symphony No. 5: First performed in Vienna's Theater an der Wien in 1808, the work achieved its prodigious reputation soon afterward. E. T. A. Hoffmann described the symphony as "one of the most important works of the time".
2. "Tempest Sonata" 3rd Movement: Composed in 1801-1802, the piece was nicknamed the "Tempest sonata", not a name by Beethoven himself but by Anton Schindler. According to Schindler, when he asked Beethoven about this sonata, the answer was that if he read Shakespeare's "The Tempest" he would understand the music.
3. "Fur Elise": Perhaps one of the most well-known pieces of music in the world, this composition is a common catalyst and inspiration. The number of people who can master the entire piece is significantly smaller because of the intricate control of touch and emotion it requires to come out right.
4. "Moonlight Sonata" 3rd Movement: Completed in 1801 and dedicated in 1802 to his pupil, Countess Giulietta Guicciardi. This piece is one of Beethoven's most popular compositions for the piano, and it was a popular favorite even in his own day
5. "Sonata Pathetique": One of his most celebrated compositions. Although commonly thought to be one of the few works to be named by the composer himself, it was actually named Grande sonate pathétique (to Beethoven's liking) by the publisher, who was impressed by the sonata's tragic sonorities.
The Beethoven Collection includes everything you need to master Classical Metal Beethoven Songs:
1. 5 Studio Recordings
2. 5 Complete Guitar TABs
3. 5 Backing Tracks, as arranged and performed by Dan Mumm
Studio recordings of each song are included in Mp3 format, complete TAB files are included in both PDF and Guitar Pro format and complete Backing Tracks are included in Mp3 format.
BONUS!
Plus 3 bonus song Mp3s from Dan's 2015 album "Peering Through the Lens of Time"
Dan would like to thank you for your support!  For more Classical Metal songs, tabs and backing tracks check out the links below:
Dan Mumm's Ultimate Neo-Classical Collection - 
https://sellfy.com/p/SD6Y/
The Bach Collection - 
https://sellfy.com/p/uSwg/
The Mozart Collection - 
https://sellfy.com/p/rBoR/
The Vivaldi Collection - 
https://sellfy.com/p/c3Mp/
For more TABs by Dan Mumm, check out 
www.DanMumm.com/tab
You'll get 1 file (59.3MB)