Amal Carburetters for Mechanics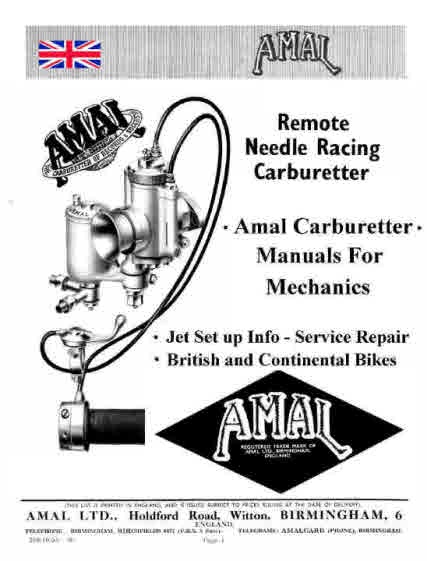 Amal Carburetters for Mechanics
100 Page + Amal Carburetter Book 16 Carb manuals
Combined into one conveniant Book.
A great printed mechanics Archive Great for the
Garage or Bike club Archive.
Check out the Vintage Carbs in the List below
Covers Years 1940s to the 1960s.
Illustrated Parts manuals with exploded views
every jet nut and bolt covered.
Jet Information for Amal Racing Carbs.
Service instructions and set up.
Technicale information Records of achevement.
If you work on Restore or just own a
Vintage Motorcycle This if for you!
Get your machine running at it's best.
Amal GP carburetter 15 -10 -5 - 3 Series 316 List No 469 1958.
Amal 1962 to 1966 Carb Settings List Motorcycles Scooters Mopeds A3.
Amal 2 index.txt
Amal 600 and 900 series Carburettor 1966
Amal Addition to Floatbowl Bulletin
Amal Air Filters and Grit Protectors No 113L 1966.
Amal Carbs Cover.jpg
Amal carbs and settings 1940 to 1954 A3.
Amal Carbs for Mechanics (Paper)
Amal Carbs Parts list 1966
Amal Carburetters for Mechanics (Print).
Amal Controle leavers and Twist Grips No 203 1963.
Amal GP Carburetter No 115-1 1965 Records sucess.
Amal GP Carburetter Revised price No H471 - 1954.
Amal GP_Carburetter Manual
Amal Main Index.txt
Amal MK11 Carburetter Tuning
Amal monoblock for BSA Twins.
Amal Monobloc CarburetterTuning .
Amal Parts List 1964 No 101 1964.
Amal pre mono booklet .
Amal Racing Carb RN9 Type 302 No 452 issue 2.
Amal Remote Needle Racing Carb List 414.
Amal Strangler Carburetter Parts manual .
Amal Track Racing Carburetter Type 27 No 105.
Amal TT Carburetter parts manual No 441R 1947.
Amal TT9 Racing Carburetter Type 302 No H449
Amal Type 27 Carburetter parts No 451 - 2.
Amal Type RN Parts List No 417R
British Seagull 2 jet Amal carburettor
BSA Bantam 175cc Amal carburettor
No other ebay seller offers this DVD
Only available from me!
You'll get 1 file (12.9MB)