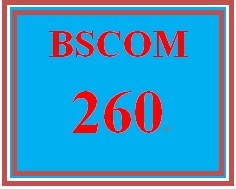 BSCOM 260 Week 4 Document Design
BSCOM 260 Entire Course Link
https://uopcourses.com/category/bscom-260/
BSCOM 260 Week 4 Document Design
Imagine 
you are working for an international
corporation and have been tasked with writing a best practices 1- to 2-page
flyer for posting in the company's offices around the world. The subject of the
document is on the company's recycling policy in the breakrooms.
Incorporate 
the following information in the flyer:


The company
wishes to make it clear that all plastic cups in the breakroom should be
placed in the provided recycling bin once the employee has finished using
them.


Create 
your
flyer as a Microsoft® Word document. You may want to review the
flyer templates available in Microsoft® Word for use in this
assignment.
Submit 
the assignment
to your instructor and to the class discussion area for feedback and to learn
from your peers.
Note.
 This
assignment is designed to introduce you to basic document design that is often
required of employees who have no graphic design background or skills. The
essential part of the assignment is to ensure the information you write
communicates the intended message.
You'll get 1 file (149.8KB)
More products from UopTutorials