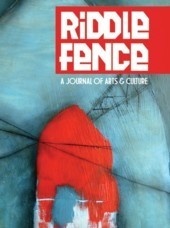 God Help Thee: A Manifesto (Joel Thomas Hynes)
God Help Thee: A Manifesto, written and performed by Joel Thomas Hynes
Listening Time: 15:47

Joel Thomas Hynes, Riddle Fence: A Journal of Arts & Culture and Rattling Books have teamed up to offer you the audio version of this caustic, highly irreverent and relentless performance piece by Joel Thomas Hynes, acclaimed author of Down to the Dirt and Right Away Monday.

Hynes performed this piece in 2006 as part of a fundraiser for the Resource Centre for the Arts in St. John's, Newfoundland and Labrador. Holding nothing sacred, Hynes mocks many of the icons held dear by contemporary Newfoundlanders. From this destruction arises the construction of a beloved place. Riddle Fence, based in St. John's, Newfoundland and Labrador, published the text of Hynes' piece in their second issue, which is available from their website.

On behalf of Riddle Fence and Joel Thomas Hynes, Rattling Books offers you the opportunity to download the live recording of God Help Thee: A Manifesto as an MP3 audio file.

One hundred percent of your purchase of this download will go to support the Newfoundland and Labrador Arts Council's Culture Assistance Plan for Emergencies (CAPE) Artists Fund, which provides the province's artists with funding in times of financial need arising from severe illness or accident.
You'll get 1 file (14.5MB)
More products from Rattling Books audiobooks