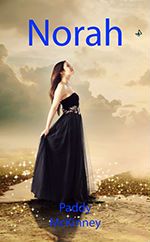 Norah, by Paddy McKinney
It was the 1950s, when Britain was once again in a state of temporary peace. The people were endeavoring to rebuild and the war generals were retiring to the silent tranquility of both the English and Irish countrysides. This is the story of one such Army officer who was attracted to the green meadowlands of East Donegal, Ireland. Though seen as useful as an employer, this man soon turned out to be an imposing protagonist with a mind far out of step with the local people. Like all good stories, "Norah" depicts real country life and the colorful characters that make it so. Norah, the daughter, is the true heroine of this tale as it develops into a saga of power, conflict and dependence. It is the lure of romance and intrigue that draws the reader to these pages, where the script characters become real people who speak a familiar language. So, take the soft seat in front of a glowing fire and warm your heart to the moving odyssey of "Norah."
Published by Swordpoint Intercontinental, Ltd.
You'll get a 369.9KB .EPUB file.
More products from Joseph Greenleaf