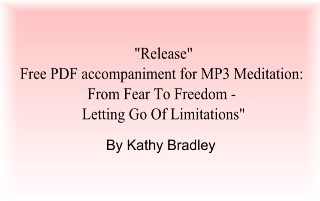 Free PDF Meditation: "Release" by Kathy Bradley
Free PDF accompaniment for MP3 Meditation: From Fear To Freedom - Letting Go Of Limitations"In the universe, there is an immeasurable, indescribable force which shamans call intent, and absolutely everything that exists in the entire cosmos is attached to intent by a connecting link." ~Carlos Castanada

*Release limiting Beliefs.
*Everything is Energy. Align with the Higher vibrations by following these simple techniques.
*Place Your Attention on your Intention.
*Align and Allow the Abundance of the Universe to flow to you.

Format: MP3 download and PDF Meditation, "Release"
You'll get a 45.3KB .PDF file.
More products from kathybradley