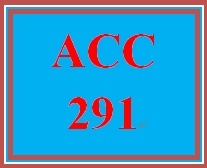 ACC 291 Week 4 Ch. 11: Overview with Paul Kimmel
Entire Course Link
https://zh.scribd.com/document/340327850/Uop-Tutorial
 ACC 291 Week 4 Ch. 11: Overview with Paul Kimmel 
Watch the "Ch. 11: Overview with Paul Kimmel" video located in the Week 4 Video Assignments in WileyPLUS.
Consider the following as you view:   
The purpose of this video is to introduce common terms related to the stockholder's equity section of the balance sheet. In this video, Paul Kimmel, the co-author of your text, shares with you examples from real world experiences to enhance your understanding of the topics in Ch. 11 and sets the tone for what you will be learning.
You'll get a 30.0KB .DOC file.