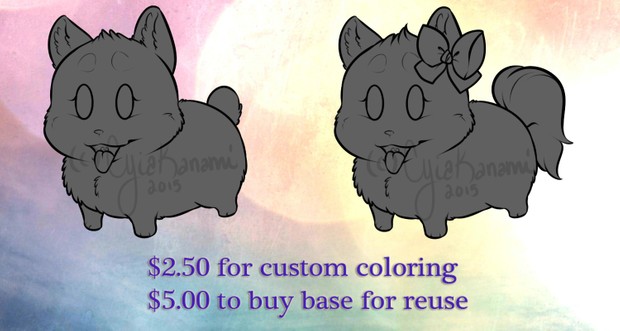 Pups base line art
This is an adoptable template.
What's included:
*2 adoptable bases
*Full res psd file

Terms and conditions:
-You get 1 full res psd file upon purchase.
-You are free to use the content in this file to edit, upload, and sell as adoptables only!
-You are NOT allowed to resell/give away the lineart by its self. All product you upload must be edited of your own creation and sold as an adoptable.
-You must credit back the original lineart source with each posting. Failure to do so will result in you being asked to comply. If you choose not to, you will be reported and the artwork either edited or taken down until credit is given.
-There is no price cap as to how much you may sell the adoptables.
-By purchasing this package, you are agreeing to all terms and conditions stated above.

Artwork(c)2015: Cyiakanami

If you have trouble with downloading, please provide your order number and e-mail address via either Sellfy or Furaffinity notes and I will contact you with in 24 to 48 hours with a redeliver.
You'll get 1 file (665.4KB)
More products from Hex