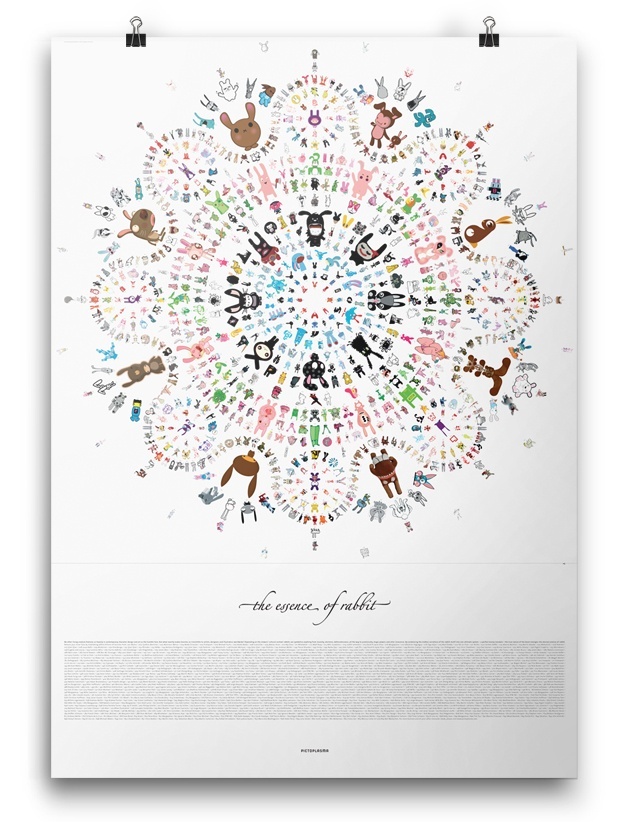 The Essence Of Rabbit - Print File
Editor:
Pictoplasma.com
/ Peter Thaler, Lars Denicke 
Design by:
Wiyumi.com
/ Alexander Fuchs
Size: Oversize Poster / Din A0: 84,1 x 118,9 cm
Too much bunnies? There's no such thing!
And just to prove it Pictoplasma asked internationally established and upcoming character designers, illustrators and artists around the globe to send in their versions of rabbits, bunnies, hares and everything in between.
The result is a full-scale bunny overdose, with far more than 1.500 individual rabbits from 500+ international contributors. By condensing the endless variations of the rabbit motif into one ultimate system – a perfect bunny mandala – the true nature of the beast emerges: the eternal essence of rabbit.
ORIGINAL PRINT SOLD OUT
Downloadable print file (150MB PDF/ CMYK) offered for private use only under a Creative Commons Attribution-NonCommercial 3.0 Unported License
You'll get a 140.1MB .ZIP file.
More products from Pictoplasma