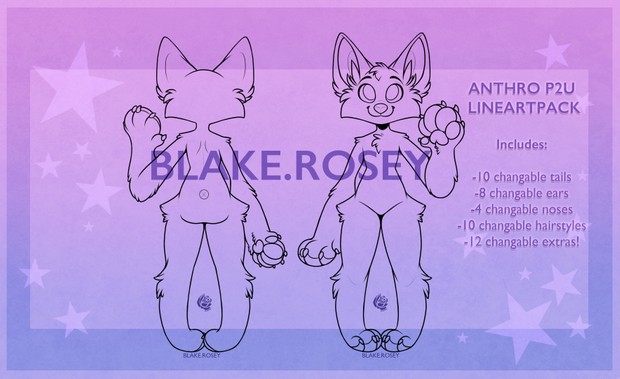 £10 Chibi Anthro Lineart Pack
NO REFUNDS WILL BE GIVEN OUT FOR THIS LINEART PACK

Please do your research before you purchase the base. Make sure to check if PSD files are compatible with your art program. Refunds will not be given out if the file does not work with your program.
PSD FILES DEFINITELY ARE COMPATIBLE WITH
I have check this lineart pack in both of these programs and found that the file works as it should. If you wish to know if the file will work in your art program, please check online for information. All information listed below has been sourced from the respective art program's original websites.
PSD FILES SHOULD BE COMPATIBLE WITH


.Firealpaca


("firealpaca supports PSD format, not fully though. Some layer information such as layer mask, layer style, some of blending mode are unsupported.")



.Procreate


("The Procreate 3.2 update includes several major new features, including PSD import for bringing Photoshop documents into the app...")



.All Adobe Programs


("Other Adobe programs can use PSD files too, like Adobe Illustrator, Adobe Premiere Pro, and Adobe After Effects.)


Google search; "Art programs compatible with PSD files";


GIMP. GIMP should honestly be your first stop when trying to open and edit a PSD file for free. ...


Paint.NET. ...


Photopea Online Editor. ...


XnView. ...


IrfanView. ...


Google Drive. ...


Go2Convert. ...


LINEART RULES


By purchasing this lineart you are agreeing to my rules and terms.


This lineart can be used for adoptables, personal use and gifts. 


This lineart file can not be re-sold, or given to anyone who has not purchased the lineart pack from me.


Do not remove my watermark that is on the background of this lineart pack. The watermark can be moved and resized/coloured, as long as it is still clearly visible and my username can still be read.


Edits can be made to this lineart as long as it stays recognisable.


When this lineart pack is used and posted online, please be sure to credit me as the lineart creator.


The only kind of profit that can be made from this lineart is from adoptables. This lineart cannot be sold and coloured in as a type of commission.


(PHOTOSHOP) BRUSH SETTINGS


Hard round with pen pressure


size 5


ABOUT THIS LINEART PACK
This lineart pack has one full body friend view and back view of an anthropomorphic character. In total there are 44 changable layers, with features such as floppy ears, tongues, wings, horns, hairstyles, eyebrows, and more!
This lineart is very suitable for detailed adoptables and for personal reference sheets of your characters!
There are changable ears and noses that can change the species of the character to a canine, feline, or even a dutch angel dragon!
Please have fun with this lineart! I can't wait to see what everyone makes with it.
You'll get 1 file (28.6MB)
More products from Blake Rosey