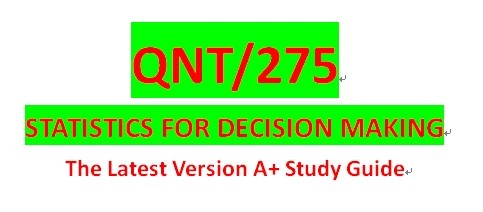 QNT 275 Week 3 Probability - Learning Activities Required (Participation Responses)
https://uopcourses.com/category/qnt-275/




QNT
275 Week 3 ProbabilityLearning
Activities Required





3.1 Differentiate between discrete, continuous, and
conditional probability.


3.2 Apply probabilities to support business
decision making.


3.3 Describe characteristics of standard normal
distribution.





Learning Activities 
Required Probability and Conditional Probability in Business
Decision MakingRandom VariableEssentials of Business Statistics, Ch. 4Essentials of Business Statistics, Ch. 5Essentials of Business Statistics, Ch. 6The Multiplication RuleWeek 3 Learning Team Collaboration Discussion:
ProbabilityResource: Case Study 5.2 in Chapter 5 of
Essentials of Business StatisticsCalculate the requested probabilities
for items 1-3.Discuss your findings for the
probabilities.


What was the smoking
trend from 1997-2007?


Is this a discrete,
continuous, or conditional probability? Why?


How do probabilities help
you understand trends in data?


What steps might you
recommend, related to smoking behavior, based on this trend?


You'll get 1 file (24.4KB)
More products from UopTutorials