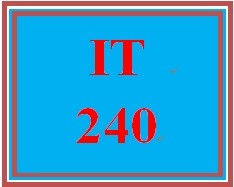 IT 240 Week 7 Individual Local Area Network for Taylor & Sons Financial Consulting Plan and
IT 240 Entire Course Link 
https://uopcourses.com/category/it-240/
IT 240 Week 7 Individual: Local Area Network for Taylor & Sons Financial Consulting Plan and Presentation
Submit
 the draft PowerPoint® presentation which contains the Local Area Network for Taylor & Sons Financial Consulting Plan. This should include details on the technology chosen and why, the protocols that will be used, access, security, and diagrams.
Create
 a 10- to 12-slide boardroom-quality Microsoft® PowerPoint® presentation detailing your plan. Format the completed slides and speaker notes in the presentation following APA Guidelines. Post your presentation as a Microsoft® PowerPoint® attachment.
Submit 
your assignment using the Assignment Files tab.
You'll get 1 file (539.6KB)