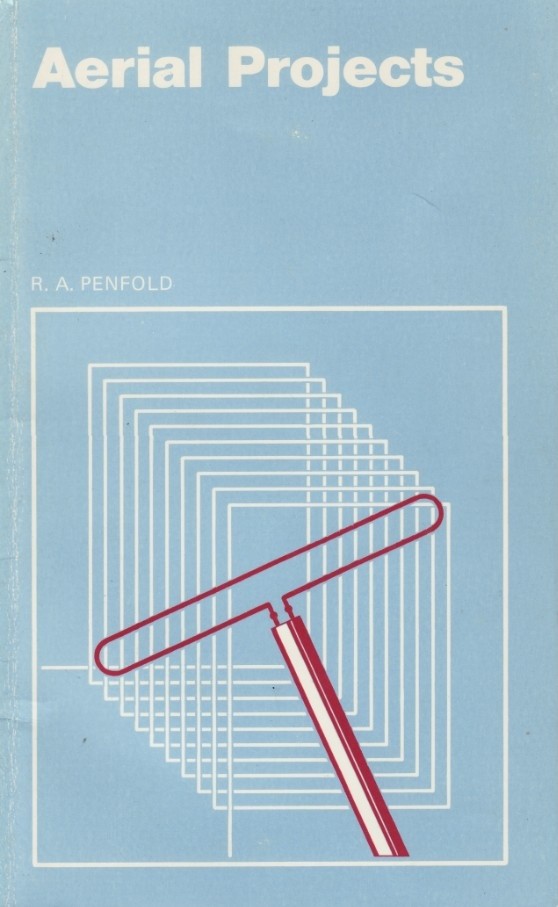 AERIAL PROJECTS by R.A. Penfold - Ham Radio Vintage Antenna Book
"
Aerial Projects
" by R.A. Penfold (92 pages).
This is a fantastic book that covers all aspects of experimenting and building your own
antenna setup.
Overview
The subject of aerials is a vast one, and in this book we will mainly consider practical aerial designs that give good performance, including active aerials, loop aerials,
etc., rather than going deeply into the theory of aerials.  A number of aerial projects including an aerial tuning unit, a preselector, and filters are also described, and this book is primarily intended for those who like to experiment with aerials and aerial
equipment, or for beginners who need guidance in the choice, construction, and
installation of a suitable aerial for use on the short wave bands.
CONTENTS


Chapter 1 – Aerials


Long-wire Aerial


Directivity


Half Wave Dipole


Inverted V Aerial


Multiband Dipole


Folded Dipole


Windom Aerial


Increased Gain


Ground Plane Aerial


Earth Connection


Chapter 2 – Active, Loop and Ferrite Aerials


Active Aerials


The Circuit


Construction


In Use


Simple Active Aerial


Active Ferrite Aerial


The Circuit


Construction


1.6 to 4.5 MHz Operation


Loop Aerial


Conventional Loop


Active Loop Aerial


Construction


Differential Loop Aerial


Construction


Tilting


Spiral Loop


SW Operation


Long Wave Operation


Chapter 3 – Aerial Accessories
HF Bands Preselector
The Circuit
Construction
In Use
Variable Aerial Attenuator
Additional Selectivity
Construction
Tunable Notch Filter
Practical Circuit
Low Pass Aerial Filter
Filter
Construction
Aerial Tuning Unit
Practical Circuit
Construction
Transistor Leadout Diagrams
The original book was scanned and converted into this digital book in Adobe Acrobat .pdf format.  In order to view this file you will need to have Adobe Acrobat Reader installed on your computer.
You'll get 1 file (71.8MB)
More products from West Coast ePub Depot