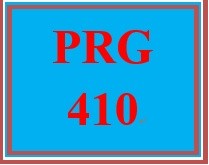 PRG 410 Week 5 Learning Team: Theater Seating Program
Entire Course Link
https://uopcourses.com/
https://plus.google.com/u/0/108200033792883877670/posts/dWT4sDYbQKM
 PRG 410 Week 5 Learning Team: Theater Seating Program 
Complete the Learning Team Assignment started in Week Two. Please incorporate all feedback obtained throughout the past weeks into your final documents.
Code and compile the final program you have built with your team per the instructions.
To submit, zip your consoleapplication folder from the program and all other documents for this assignment; these should include the Week Two identifying the program requirements, your project plan from Week Three, and the flowchart you created in Week Four.
Include the proper header and make sure you properly comment your program. Also, make sure you use proper coding conventions.
Submit your assignment using the Assignment Files tab.
You'll get 1 file (5.0MB)
More products from UopTutorials