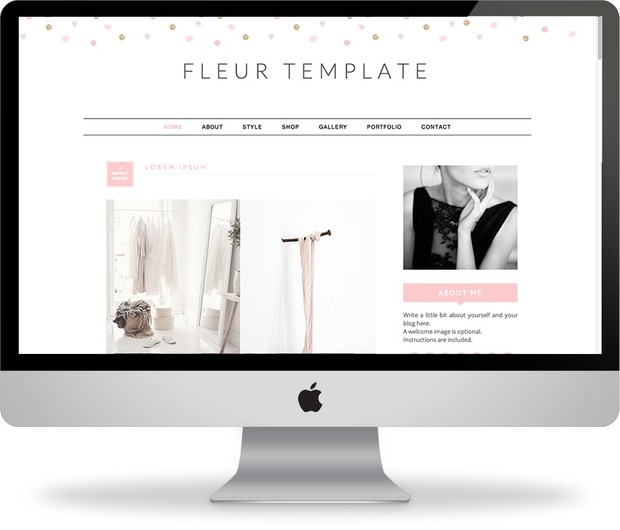 Fleur - Premade Blogger Template
Fleur is a chic and modern premade Blogger template that is super easy to install! After your payment, you will instantly receive a .ZIP file that includes:
- XML Blogger template file: You will only need to upload it!
- Social media icons.
- Easy installation instructions.
▬▬▬▬▬▬▬▬▬▬▬▬▬▬▬▬▬▬▬▬▬▬
This template has pre-coded elements including:
- Page navigation: Add pages and they will automatically appear!
- Pictures in posts will auto-resize so they don't distort the template.
- Two column layout.
- Customized search box.
▬▬▬▬▬▬▬▬▬▬▬▬▬▬▬▬▬▬▬▬▬▬
LIVE PREVIEW!
http://fleur-template.blogspot.com
▬▬▬▬▬▬▬▬▬▬▬▬▬▬▬▬▬▬▬▬▬▬
PLEASE NOTE:
This template is for the Blogger/Blogspot platform ONLY! This template will not work on Wordpress or any other blogging website. It will only work on Blogger/Blogspot!
I do not refund in the case of accidental purchase.
▬▬▬▬▬▬▬▬▬▬▬▬▬▬▬▬▬▬▬▬▬▬
Be social!
http://www.kaybrighton.com
(add-ons for this template and custom Blogger design!)
Facebook:
http://www.facebook.com/kaybrightonstudio
Twitter:
http://www.twitter.com/kaybrighton
Blog:
http://www.kaybrighton.com
▬▬▬▬▬▬▬▬▬▬▬▬▬▬▬▬▬▬▬▬▬▬
This item will be available for download after payment has been processed (usually immediately). Just download the file, unzip the file, and you're ready to go! Template will be resold. It is not a one-of-a-kind design. No physical product will be delivered. This template is made for the Blogger platform exclusively. All copyright, trademarks and all other intellectual property rights of the shop and its content are owned by or licensed to Kay Brighton Studio. None of the content may be downloaded, copied, reproduced, transmitted, stored, sold or distributed without the prior written consent of the copyright holder.
You'll get 1 file (457.2KB)
More products from Kay Brighton