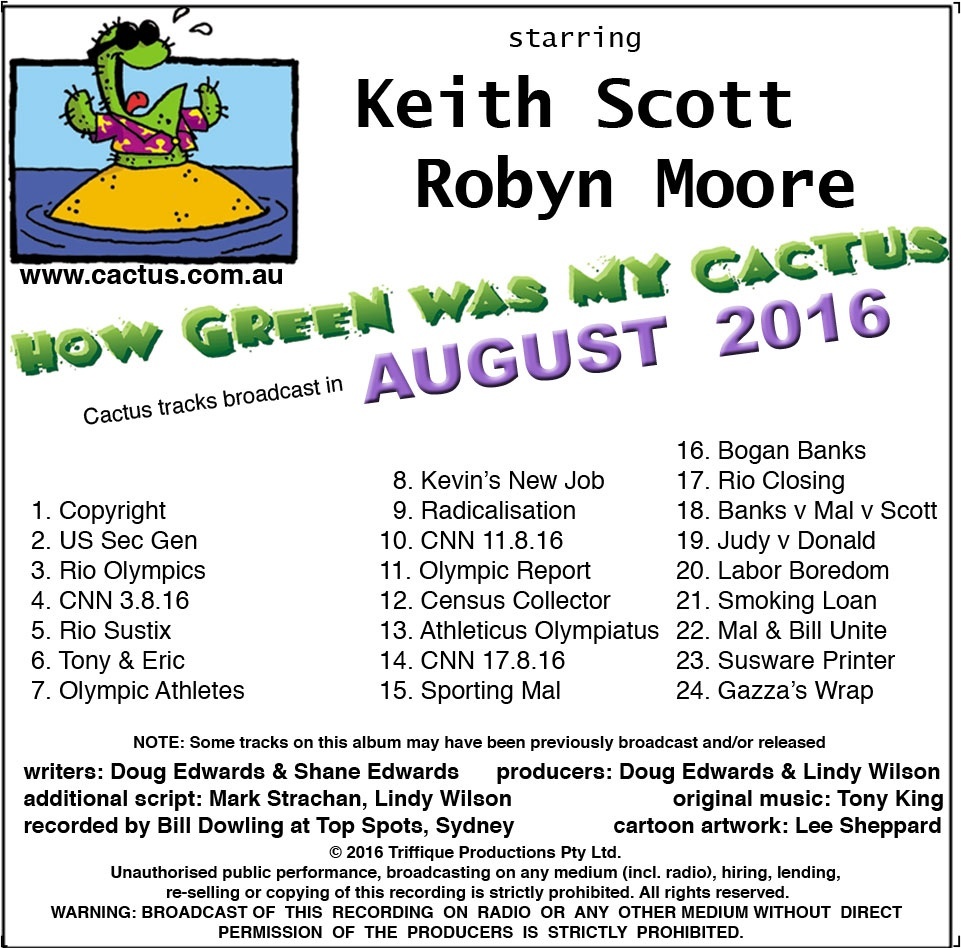 CACTUS - August 2016
DESCRIPTION
CACTUS - AUGUST 2016
TRACKS
1. Copyright: All material downloaded is copyright.Unauthorised public performance,broadcasting on any medium (including. radio),hiring,lending,re-selling or copying of this recording is strictly prohibited.All rights reserved. ©2016 Triffique Productions Pty Ltd
2. US SEC GEN: 'Sunstroke' hosts Kochie and Sam talk to ex-PM Kevin Krudd, a hopeful UN Secretary General whose nickname is The Ladel because he's a self-serving tool.
3. RIO OLYMPICS: Big Gazza Roidman previews the Olympics in Rio. Will the stadium be ready? Will the water be swim inable? Does anyone care as long as the beach volleyball goes ahead?
4. CNN 3.8.16: Showbiz news: 72-year-old Rolling Stone Mick Jagger won't be at the birth of his new baby. He's still recovering from the night he did the business with the missus.
5. RIO SUSTIX: Hey Rio Olympics nuts! Forget the Zika virus! Forget the threat of getting mugged or kidnapped! Susware has Olympic tickets so cheap it's worth the risk! 
6. TONY & ERIC: Captain Tony Abs and Senator Eric A'putz discuss same-sex marriage, including the possibility of cancelling the citizenship of all gay people.
7. OLYMPIC ATHLETES: Big Gazza Roidman & Sandra Silly describe the Olympic opening ceremony. Well they will if the security guards ever finish frisking the Swedish girls beach volley ball team.
8. KEVIN'S NEW JOB: Ex-PM Kevin Krudd gets his revenge on Malcolm Talkbull by getting an even better job than Sec Gen of the UN. Is he the new US President or the new James Bond?
9. RADICALISATION: The Liberal Party right wing makes Malcolm Talkbull sweat on an exercise bike owned by Tony Abs. It's a penny-farthing of course.
10. CNN 11.8.16: Sandra Silly with the latest news, Richard Richard with showbiz, and Big Gazza Roidman reveals that our Olympic Chef de Mission Kitty Litter has cleaned up all the crap in Rio.
11. OLYMPIC REPORT: Sandra Silly learns some ancient Olympic facts from IOC historian Manfred Klutz. Did you know that at the Athens Olympics in 410BC Socrates invented soccer?
12. CENSUS COLLECTOR: Emperor Mal Talkbull himself is forced to collect census forms from houses, including Barnaby Joyce's place, where the light is on but there's nobody home.  
13. ATHLETICUS OLYMPIATUS: Naturalist David Kittenburger reveals a most extraordinary creature, the Athleticus Olympiatus, which lives off large amounts of money and small amounts of chemicals. Isn't nature wonderful! 
14. CNN 17.8.16: After being refused support for the job of UN Secretary General, a teary and humiliated Kevin Krudd refuses to fill in his census form because he may as well not exist.
15. SPORTING MAL: Judas Bishop and Prissie Pyne try to convince Malcolm Talkbull that sport is fun, entertaining and satisfying. Mal says, no, that's bank statements from the Caymans. 
16. BOGAN BANKS: Davo Bogan intends to win a million bucks on tv's Hot Seat. But he won't put it in the bank because he's heard that banks never pass on the full amount. They're worse than pokies. 
17. RIO CLOSING: Kochie describes the Rio Olympic Games closing ceremony, where the spectators have to stand because Brazilian thieves have stolen the stadium. 
18. BANKS v MAL v SCOTT: Emperor Mal sends Treasurer Scott No-Idea to confront the greedy banks. Scott prefers to let Defence Minister Marise Payne do it – she's the one with an army. 
19. JUDY v DONALD: In the court of Judge Cranky, China sues US presidential hopeful Donald Dump for building a wall big enough to challenge the Great Wall of China for tourist dollars. 
20. LABOR BOREDOM: Bill Curly and his colleagues try to cope with the boredom of being in opposition once again. In fact if they were doing any less they'd be Malcolm Talkbull's government. 
21. SMOKING LOAN: With the price of cigarettes skyrocketing, Mr and Mrs Idiot ask their bank manager about the bank's new smoking loan or, as the bank likes to call it, the Breathe Easy Lifestyle Loan. 
22. MAL & BILL UNITE: Mal Talkbull and Bill Curly realise that the voters have sent them a strong message at the election - there's no mistaking some of the drawings on the ballot papers.
23. SUSWARE PRINTER: Hey guys! Hey girls! Keep up with the Joneses with a Susware 3-D Printer! Short of cash? Need a new car? Feel like a baked dinner? It's easy with a Susware 3-D Printer! 
24. GAZZA'S WRAP: At the Parliamentary Question Time grudge match, Big Gazza Roidman thinks Malcolm Talkbull should be playing for the opposition – he's as wet as Leunig.
NOTE: TRACKS ON THIS ALBUM MAY HAVE BEEN PREVIOUSLY BROADCAST AND/OR RELEASED.
Copyright: All tracks and material ©2015 Triffique Productions Pty Ltd. All rights reserved. All material downloaded is copyright. Unauthorised public performance, broadcasting on any medium (including. radio), hiring, lending, re-selling or copying of this recording is strictly prohibited. All rights reserved.
You'll get a 48.3MB .ZIP file.
More products from doug_e