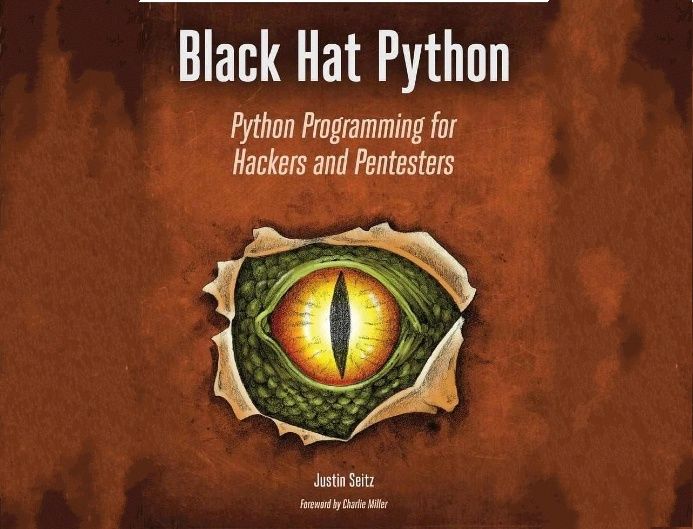 Black Hat Python, Python Programming for Hackers
When it comes to creating powerful and effective hacking tools, Python is the language of choice for most security analysts. But just how does the magic happen?

In Black Hat Python, the latest from Justin Seitz (author of the best-selling Gray Hat Python), you'll explore the darker side of Python's capabilities—writing network sniffers, manipulating packets, infecting virtual machines, creating stealthy trojans, and more. You'll learn how to:

Create a trojan command-and-control using GitHub
Detect sandboxing and automate common malware tasks, like keylogging and screenshotting
Escalate Windows privileges with creative process control
Use offensive memory forensics tricks to retrieve password hashes and inject shellcode into a virtual machine
Extend the popular Burp Suite web-hacking tool
Abuse Windows COM automation to perform a man-in-the-browser attack
Exfiltrate data from a network most sneakily

Insider techniques and creative challenges throughout show you how to extend the hacks and how to write your own exploits.

When it comes to offensive security, your ability to create powerful tools on the fly is indispensable. Learn how in Black Hat Python.

Note: Offering this book does not infringe anyone's copyright since it has been made available in the public domain.
You'll get a 3.0MB .PDF file.
Download for FREE
You will get this product for free if you share it on social media. The file download will begin after you share the message.
Tweet
Looks like you are using AdBlock. And it's blocking the social sharing functionality on this page. To receive the discount, please disable AdBlock on Sellfy.
Support the creator
Buy Now
Support the creator by purchasing the product for full price. Your download will begin immediately after payment.