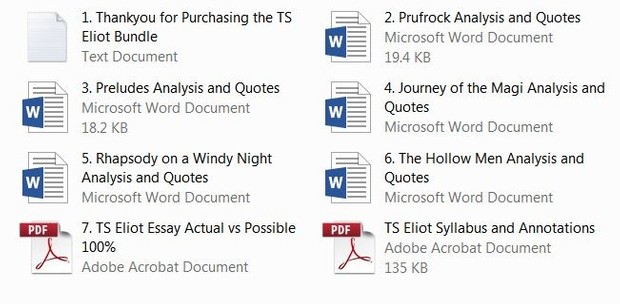 TS Eliot: THE COMPLETE BUNDLE! 5 Poems Analysis and Quotes + Free 100% Essay! HSC 2015-2020
MODULE B: Critical study of texts.
This bundle covers every prescribed poem, and will allow you to ace any essays or exams.
Covering all the best quotes and context in 5 compact summary documents, this bundle is a go to for year 12 students revising for the HSC, or for year 11s preparing for it.
This bundle comes with Quotes and Analysis sheets for Eliots poems: Prufrock, Preludes, Journey of the Magi, Rhapsody and Hollow men (All valued at $0.99 each!)
Buy now and get my 100% Essay on TS Eliot, The Possible Vs The Actual for free!
These documents also include all crucial critical perspectives, to allow for an informed perspective, to ace the syllabus.
Good luck.
I hope you enjoy.
You'll get 1 file (356.5KB)