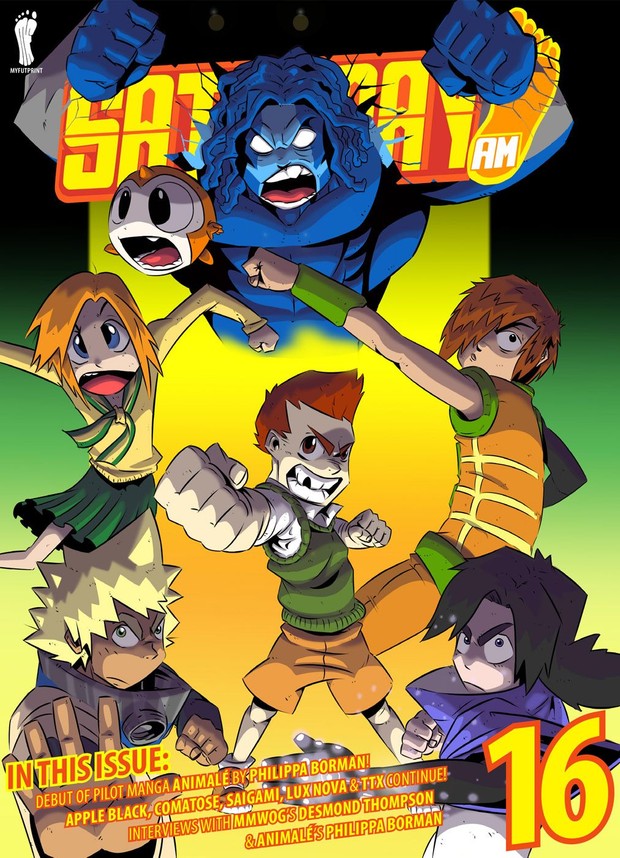 Saturday AM #16
HOME STRETCH!!

These are the last five issues of 2014 and it begins with our fantastic 16TH ISSUE!

Once again, clocking over 100pgs -- expect to see some of the hottest manga webcomics from the freshest talent anywhere in the world.

Having launched our PILOT manga program early in 2014--we have now begun developing talent EXCLUSIVELY from some major new faces that will blow your mind! Our Test Flight monthly manga competition is similar to Japan's HOP STEP award and boy, are we hopping up and down with the level of talent we've uncovered!!

We start with our first Test Flight winner --- PHILIPPA BORMAN who drops her original manga, "ANIMALE". Think LION KING meets WWE. You've never seen animals with those much emotion, comedy and violence! Her series PILOT runs exclusively in Saturday AM and begins right now.

Our long-awaited new manga, MASSIVELY MULTIPLAYER WORLD OF GHOSTS, is due to arrive next issue but you can get a SNEAK PEEK now!

With the blockbuster APPLE BLACK, innovative (wait till you see this chapter), COMATOSE and consistent SAIGAMI--this is another slam bang issue from the foundation of SATURDAY AM.

Add to that the HUGE new chapters of TTX and MYTHALLICA LUX NOVA and you've got the perfect start to our last 5 issues of 2014.

So--stop what you are doing and BUY THIS ISSUE SO YOU CAN DOWNLOAD IT!!
You'll get 1 file (78.7MB)
More products from Saturday AM