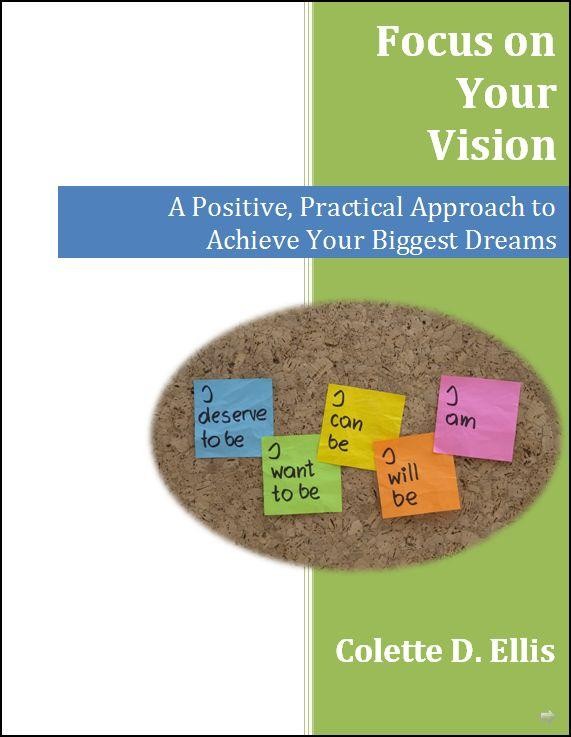 Focus on Your vision eBook
What would it mean if you could break free of clutter and distractions to focus on what you really want? Imagine how much more you could accomplish with this level of attention and motivation. Learn how with: Focus on Your Vision: A Positive, Practical Approach to Achieve Your Biggest Dreams (and Get the Results You Really Want).
From the Author
With over 10 years experience training executives and entrepreneurs how to lead teams through change, I empower you to ignore pessimists who suggest "it can't be done!" In Focus on Your Vision, I reveal a POSITIVE, PRACTICAL and STRATEGIC approach to support you in realizing your biggest dreams. Plus, all eBook purchases include a discount on an introductory coaching session with me.
About the Author
Colette Ellis is an author, executive coach, and motivational speaker who empowers clients to get "instep" with their health so they can focus on what's most important. Her book, Focus on Your Vision, presents an easy, 4-step process to help readers achieve greater work-life balance. With over 10 years experience helping visionaries deal with change, she creates a safe space for clients to explore new opportunities without compromising their values. She is certified in 7 Habits of Highly Effective People®, FOCUS: Achieving Your Highest Priorities, and Coping with Work & Family Stress™, a research-based wellness curriculum. As founder of InStep Consulting, Colette guides entrepreneurs how to transform their lives and realize results faster through insightful coaching and interactive seminars on leadership and employee wellness. A featured
eHow.com
contributor on Workplace Morale, her tips and advice have appeared in Real Simple Magazine and online at
CBSNews.com
and
CNN.com
.
You'll get 1 file (671.0KB)
More products from Coach Colette