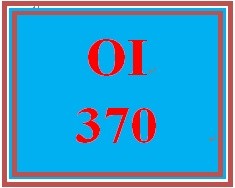 OI 370 Week 1 Self-Evaluation
OI 370 Entire Course Link 
https://uopcourses.com/category/oi-370/
OI 370 Week 1 Self-Evaluation
View the "Your Innovation Potential: The 5 Skills" video located in the Week One learning activities. Based on the video, answer the following questions in 350 words or less:


Am I an innovator? Why or why not?


Do I possess innovative skills? If so, which ones?


What skills do I need to acquire or improve upon to be more innovative?


How do I propose to utilize these skills in the future?


Click
 the Assignment Files tab to submit your assignment.
You'll get 1 file (39.9KB)
More products from UopTutorials