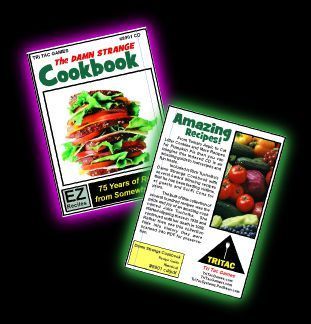 TTG#8901 Damn Strange Recipe Collection
http://tritacgames.com
From Tomato Aspic to more recipes for Pumpkin Pie than you can imagine, this indexed CD is an amazing guide to lost recipes and fun treats.The bulk of this collection of several hundred recipes was the pride and joy of an amazing cook named Julie Tucholka. She started clipping these in 1935 and continued until she passed away in 1996. Rather than let these scrapbooks fade into history, they were scanned into PDF and included here.
Also included is Rich Tucholka's "Damn Strange Cookbook" with several award winning recipes that he has been feeding guests and Sci-Fi fans for years.
Ectr
$10.95
53f53dec24c10b6a6f2af43c
You'll get a 34.4MB .ZIP file.
More products from Tri Tac Games