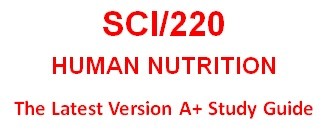 SCI 220 Week 2 Toolwire GameScape Episode 2: "Nutrient Sources and Significance"
**********************************************************
SCI 220 Entire Course Link
https://uopcourses.com/category/sci-220/
**********************************************************
Your team in the Fuel4Success challenge has dietary needs as diverse as their personalities. Ultimately, it's up to you to create a meal that suits the needs and goals of each of them. Playing the engaging game "Meal Maker", allows you to combine many different world foods to satisfy the individual dietary needs of each of your team members while, at the same time, keeping them happy with a tasty meal. As you plan their meals, your goal is to keep the nutrition bars up in the green "healthy zone" and out of the red "danger zone". How do you do that? By understanding the best nutritional balance for each member of your team and combining the right foods of course! 
Click on the link to access the GameScape.
Complete the GameScape Episode 2.
Submit the completed GameScape PDF assessment to your instructor through the Assignment Files tab.
You'll get 1 file (1.6MB)