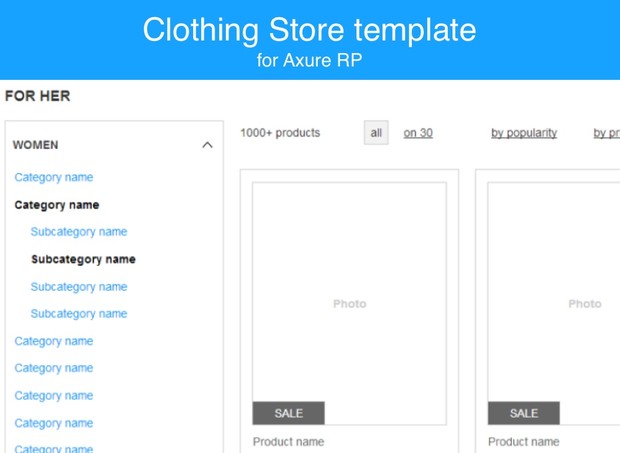 Axure template / Clothing store
Live demo:
http://crqeko.axshare.com/
This template is the most convenient and functional template of the online store of clothing for Axure today. Such a number of functions you can not find anywhere else. Catalogue with filters, product card, shopping cart and checkout, off line shops and much more. Be sure to check this template in demo mode.
TEMPLATE FEACHERS:
Responsive design
Using the new features in Axure we created 3 resolutions for the template:
- 1140, wide enough resolution for placing products, filters, and other content
- 768 resolution for tablets. This version retains all features of desktop version
- 320, permission for mobile devices. Please note that practically all features are available in this resolution. It is not just for decoration, it is a fully functional version
Don't forget to test this function in demo mode, simply turn the browser window to the desired size.
Catalog
Clothing store contains all trend functions and solutions of catalogs for clothing stores are today.
- filter by category- filters for color
- filter by size, collection, price, availability in the store
- sorting of products
And it all works dynamically! You don't need to explain to the client how it works – he'll understand and appreciate your prototype. Remember, in demo mode, you can check the whole dynamics own hands.
The shopping cart and checkout
This is probably one of the most important pages in the Internet shop because of their study we have devoted a lot of time.
The recycle bin contains the preview view from the header of the site, all functions for editing baskets and even discount coupons
The order is divided into 3 steps and will allow users to easily enter your details and choose a way of delivery and payment.
Additional features
Besides all above written clothing store contains a huge number of useful functions
- the module of a subscription- map of shops
- promotion
- Looks
- mega-menu in the header
- table of sizes
- vacancies and much more.
All the functions you can see in the demo mode. It's absolutely free. You don't need to buy a cat in a bag.
Axemplate - Best Axure templates and widget libraries.
With:
- FREE DEMO
- AXURE RP 7 ADAPTED
- RESPONSIVE DESIGN
- ADVANCED DYNAMIC
- MASTERS USAGE
- FREE NEW VERSIONS
Visit our wesite:
http://www.axemplate.com/
You'll get 1 file (3.4MB)
More products from Axemplate