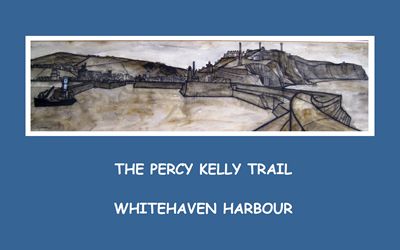 Whitehaven Trail
Whitehaven is the largest town on the Kelly trails. There is a lot to see and do so it is divided it into two trails - first the harbour and town, an easy walk on the flat apart from one hill at the beginning, the other the mining area on the South cliffs and themore arduous coastal walk to St Bees (6 miles). It is easy to spend several hours walking round the Harbour and even longer exploring the town. If Kelly were to return today he would be surprised at the tourist development and the amount of public art and number of heritage trails in this town. This makes the work he did here even more interesting - even his rough sketches.

By 1730 Whitehaven had the deepest seams, the latest technology and steam engines for drainage and haulage. In 300 years 70 pits were sunk in the Whitehaven area and 500 people - men and boys lost their lives under land and sea. It provided Kelly with unlimited inspiration feeding his love of ships, harbours, machinery, industry and architecture.
You'll get a 1.2MB .PDF file.