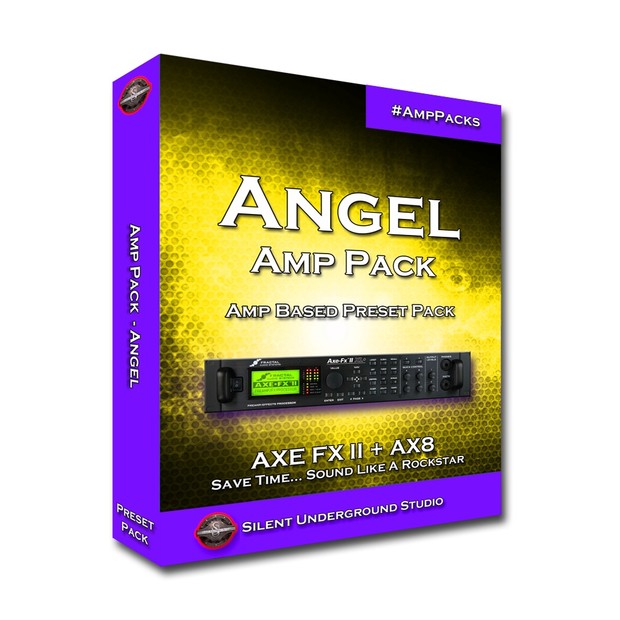 ANGEL Amp Pack (FAS)
ANGEL Amp Pack
8 x 4 scene ENGL based amp model presets!

Set up for: Direct to DAW, Studio monitors, FRFR, Direct to FOH use
Firmware: Quantum 9
Model: AXE FX II, AXE FX II XL, AXE FX II XL+, AX8
Cabinet IRs: Uses an included custom Cabinet IR (Required)
Scene Switching: 4 scenes - Clean, Crunch, Rhythm, and Lead.

Pack includes:

Presets:
Angle Severe 1 (1)
Angle Severe 1 (2)
Angle Severe 2 (1)
Angle Severe 2 (2)
Angle Severe 2 (3)
Energyball (1)
Energyball (2)
Energyball (3)


Switching:
All Presets in this pack use 'Scene Switching' to change amp tones through Clean, Overdrive, Rhythm, and Lead.

Scene 1 = Clean
Scene 2 = Overdrive
Scene 3 = Rhythm
Scene 4 = Lead

AX8 Users:
We have pre-configured the switches on the AX8 so that Switch 1 through 4 control the various Scenes and switches 5 through 8 control various FX like Compression, Reverb and Delay.

Disclaimer:
Please first know HOW to use your hardware / software BEFORE purchasing our products. They are made to work in any standard AXE FX II / AX8 setup without the need for additional external processing. No refunds are given on digital products.
You'll get 1 file (1.4MB)
More products from Silent Underground Studio