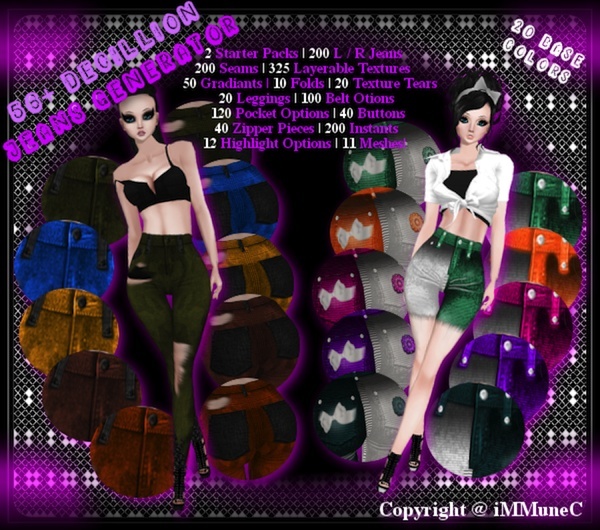 56+ Decillion Jeans Generator With Resell Rights
56+ Decillion Combination Jeans Generator created for IMVU Products, designed by iMMuneC @ IMVU. This product has Resell Rights included and has no limit on buyers. Generator includes 6 Background Meshes, 11 Mesh Overlays, 10 Mesh Tears, 100 Left Jean Bases, 100 Right Jean Bases, 200 Seams, 325 Textures, 50 Gradients, 10 Folds, 20 Texture Tears, 20 Leggings, 20 Full Left Belts, 20 Left Belts, 20 Left Belt Loops, 60 Left Pockets, 20 Left Buttons, 40 Two-Part Left Zippers, 20 Right Belts, 20 Right Belt Loops, 60 Right Pockets, 20 Right Buttons, 200 Instants, 12 Highlights, and 2 Five-Piece Starter Packs.
Must use sis3D Meshes!
S3D-Blue-Jeans-RL Mesh:
http://www.imvu.com/shop/product.php?products_id=31474871
Exclusive Product Textures:
http://mentalmorriscreations.weebly.com/product-textures.html
FAQ:
http://mentalmorriscreations.weebly.com/faq.html
If you have any problems opening this ZIP File, please do not hesitate to contact iMMuneC via this link:
http://www.imvu.com/catalog/web_send_message_widget.php?recipient_id=18004583
However, no refunds will be given out. Please make sure you can open .xcf, .png, .jpeg, and/or .zip files before you make this purchase.
You'll get a 138.2MB .ZIP file.
More products from MM_Rachel (iMMuneC)