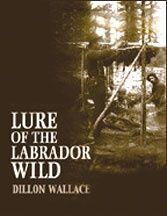 Lure of the Labrador Wild (Dillon Wallace)
Lure of the Labrador Wild by Dillon Wallace
unabridged audio book edition; originally published in 1905 by Fleming H. Revell, New York
Listening Time: roughly 9 hours
10-digit ISBN: 0-9734223-9-4
13-digit ISBN: 978-0-9734223-9-9
Narrated by Jody Richardson.
Library Digital Download of this audio book available from
Overdrive.com
By a campfire in southern New York in 1901, Leonidas Hubbard Jr. put the question to his friend: "How would you like to go to Labrador, Wallace?" By 1903 the plans were laid and Hubbard confided: "It will be a big thing, Wallace. It ought to make my reputation." The two set out with their guide, George Elson, to canoe up the Nascapi River to Lake Michikamau in the interior of Labrador and make new maps, meet Indians, and run with caribou – all fodder for famous magazine articles Hubbard would write. But alas, they took the wrong river and Hubbard's reputation was made instead through his death by starvation on the Susan River. A hundred years later the tale of his folly is no less poignant.
Read by Jody Richardson Acting Direction Janis Spence
Recorded and produced by Janet Russell
Audio Reviews:
Read clearly and faithfully by Jody Richardson, this is a straightforward reading of Wallace's first book. It tells the tale of Wallace, Hubbard and legendary guide George Elson's futile attempt to cross Labrador after taking the wrong river. Though quite familiar with the work it seemed to have had fresh air pumped into it and was more eloquent than I recall from my own, silent, reading. There is something more searing about the words when read aloud. The brutal weather and unrelenting hard work is sobering to say te arlitaudiohe least.
--Che-Mun: The Journal of Canadian Wilderness Canoeing
Book Reviews:
The Lure of the Labrador Wild
is a tale of 'last places,' endurance, and human devotion. A bestseller in its own day, it continues to engross readers from one generation to the next." --James W. Davidson and John Rugge, authors of Great Heart and The Complete Wilderness Paddler.
Lure of the Labrador Wild
by Dillon Wallace is another  book title from Rattling Books, Newfoundland publisher of Canadian unabridged audiobooks (aka audio books )for the world.
You'll get a 464.2MB .ZIP file.
More products from Rattling Books audiobooks