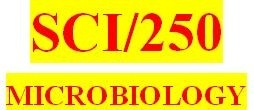 SCI 250 Week 2 Parasitology Matrix
**********************************************
SCI 250 Entire Course Link
https://uopcourses.com/category/sci-250/
**********************************************
SCI 250 Week 2 Parasitology Matrix
Complete Appendix C to differentiate among parasites, fungi,
helminths, and arthropods.
Appendix
C – Parasitology  
After
reading Ch. 11 in
Microbiology: Principles
and Explorations
,
complete the
following matrices to compare and contrast different parasitic organisms. You
may need to use the index to help you locate some of the information needed.
PROTOZOA/MASTIGOPHORANS
Organism
Common
Name
Location
in Host
Mode of
Transmission
Geographic
Location
Trypanosoma
(Ch. 24)  
Nervous system
Tsetse fly  
Giardia
(Ch. 22)    
Ingestion of fecal matter that contains motile
trophozoites
Worldwide
Trichomonas
(Ch. 20)
Vaginal inflammation    
Worldwide
Select one of the organisms in this section. Describe the disease it
causes, then compare similarities or contrast differences in modes of
transmission of the selected organism with any other organism in any other
section in this document. Focus on structures, conditions, or behaviors that
make disease transmission successful:      
SPOROZOANS
Organism
Common
Name
Location
in Host
Mode of
Transmission
Geographic
Location
Plasmodium
(Ch. 11
& 23)  
Red blood cells  
Tropical areas
Toxoplasma
gondii
(Ch. 23)
Toxoplasmosis    
Worldwide
Select one of the organisms in this section. Describe the disease it
causes, then compare similarities or contrast differences in modes of
transmission of the selected organism with any other organism in any other
section in this document. Focus on structures, conditions, or behaviors that
make disease transmission successful:         
FUNGI
Organism
Common
Name
Location
in Host
Mode of
Transmission
Geographic
Location
Candida
albicans
(Ch. 19)    
Can be sexually transmittted
Worldwide
Trichophyton

(Ch. 19)    
Poor hygiene or suppressed immune system
Worldwide
Histoplasma
(Ch. 21)    
Inhalation
Central and eastern United States and major river
valleys worldwide
Select one of the organisms in this section. Describe the disease it
causes, then compare similarities or contrast differences in modes of
transmission of the selected organism with any other organism in any other
section in this document. Focus on structures, conditions, or behaviors that
make disease transmission successful:      
HELMINTHS/FLUKES
Organism
Common
Name
Location
in Host
Mode
of Transmission
Geographic
Location
Schistoma
japonicum
(Ch. 23)  
Lungs, liver, and
urinary bladder  
Worldwide
Describe the disease caused by
Schistoma japonicum
, then compare
similarities or contrast differences in modes of transmission of the organism
in this section with any other organism in any other section in this
document. Focus on structures, conditions, or behaviors that make disease
transmission successful:      
TAPEWORMS
Organism
Common
Name
Location
in Host
Mode
of Transmission
Geographic
location
Taenia
saginata
(Ch. 22)
Tapeworm disease  
Uncooked beef  
Describe the disease caused by
Taenia saginata
, then compare
similarities or contrast differences in modes of transmission of the organism
in this section with any other organism in any other section in this
document. Focus on structures, conditions, or behaviors that make disease
transmission successful:           
ADULT ROUNDWORMS
Organism
Common
Name
Location
in host
Mode of
transmission
Geographic
location
Wucheria
bancrofti
(Ch. 23)    
Mosquitoes
Tropical areas
Describe the disease caused by
Wucheria
bancrofti
, then compare similarities or contrast differences in modes of
transmission of the organism in this section with any other organism in any
other section in this document. Focus on structures, conditions, or behaviors
that make disease transmission successful:      
 ROUNDWORM
LARVAE
Organism
Common
Name
Symptoms
in host
Mode of
transmission
Geographic
location
Borrelia
burgdoreri
(Ch. 23)    
Skin lesions and flu-like symptoms, later arthritis and
heart damage  
Ticks
Parts of the United
States, Australia,
and Europe
Rickettsia
rickettsii
(Ch. 23)  
Fever, headache, rash    
Rickettsia
prowazekii
(Ch. 23)    
Lice
Worldwide
Select one of the organisms in this section. Describe the disease it
causes, then compare similarities or
contrast differences in modes of
transmission of the selected organism with any other organism in any other
section in this document. Focus on structures, conditions, or behaviors that
make disease transmission successful:      
ANTHROPODS/ARACHNIDS
Organism
Common
Name
Location
in Host
Mode
of Transmission
Geographic
Location
Trichinella
spiralis
(Ch. 22)  
Larvae in striated
muscle  
Worldwide
Describe the disease caused by
Trichinella spiralis
, then compare
similarities or contrast differences in modes of transmission of the organism
in this section with any other organism in any other section in this
document. Focus on structures, conditions, or behaviors that make disease
transmission successful:     
You'll get 1 file (71.0KB)
More products from UopTutorials