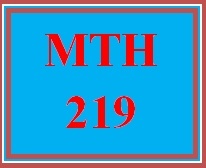 MTH 219 Week 2 Right Brain v Left Brain Quick Test
Entire Course Link
https://zh.scribd.com/document/340327850/Uop-Tutorial
MTH 219 Week 2 Right Brain v Left Brain Quick Test 
Many math students claim that they are "not good at math".  My theory is that anyone can be good at math; he/she just needs to learn according to his/her best learning style.
Are you right brain dominant, or left?  Take this little "test", do a little research, and see if you agree with the outcome. List some different ways to help you learn better, and share these ideas with your class members through our discussion board.
Reference: Right brain v left brain . (2007). Retrieved from
http://www.heraldsun.com.au/news/right-brain-v-left-brain/story-e6frf7jo-1111114603615
You'll get a 33.5KB .DOC file.
More products from UopTutorials