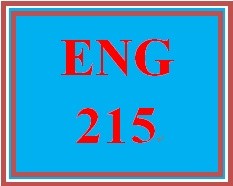 ENG 215 Week 2 Evaluate and Revise an Argument
ENG 215 Entire Course Link
https://uopcourses.com/category/eng-215/
ENG 215 Week 2 Evaluate and Revise an
Argument
Review 
Ch.
7 of your textbook.
Complete 
the
Evaluate and Revise an Argument worksheet.
Submit 
your
worksheet to the Assignment Files tab.
Evaluate and
Revise an Argument  
Complete

the following two parts of this worksheet to
evaluate and revise an argument. 
Part 1 - Evaluating
Read the paragraph in Practice 7.1 of Ch. 7 of your
textbook.
Evaluate the paragraph's strengths and
weaknesses, by using
the Revision
Guide on p. 181 of Ch. 7 of your textbook.
Fill out
the following table listing the strengths,
weaknesses, and your suggestions for improvement. Give thorough
feedback that would be useful to the writer by providing at least two for each
category.  
Strengths
Weaknesses
Areas for Improvement                                      
Part 2 - Revising
Revise
the paragraph using the suggestions you provided in Part 1. 
Note.

Changing a few words here and there is not a
revision. You will need to carefully revise ("see again") the paragraph to make
it a stronger and more effective piece. 
Insert
your rewrite: 
You'll get 1 file (36.5KB)
More products from UopTutorials