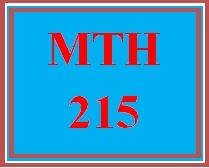 MTH 215 Week 3 Math In Our Lives for Week 3 R3.2
Entire Course Link
https://zh.scribd.com/document/340327850/Uop-Tutorial
 MTH 215 Week 3 Math In Our Lives for Week 3 R3.2 
This is a message thread we will use for articles you and I find in the press, in the technical material we see at work and so forth, where math is an important part of the article. Feel free to add your own "Math in Our Lives" contributions − and your comments − for participation credit. While there is a thread for each week, you can revisit a past week's posts to post a reaction or expand on one of those prior contributions. 
To kick Week 3 off, we often wonder if we're smarter than a 5th grader and say, "Sure." But how about a fly. Have you ever tried to swat a fly and notice that it got away successfully, then you find yourself trying it again and again, yet the fly is still much alive and still flying over you or near you?  I always wondered how they do it.  How are they able to escape so fast even when I come from behind them.  Well it seems that these little insects are very, smart.  They perform calculus with their wings and that is how they escape.  According to the article they feel the change in wind, flight and change of direction and their wings performs accurate calculations so that they can fly with the changes in the air. Now we can add flies to our list of smart species.
http://www.nytimes.com/2014/03/19/science/flies-that-do-calculus-with-their-wings.html
You'll get a 36.5KB .DOC file.
More products from UopTutorials