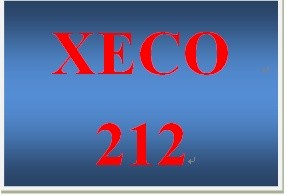 XECO 212 Week 4 Market Structures Table and Questions
XECO 212 Entire Course Link 
https://uopcourses.com/category/xeco-212/
XECO 212 Week 4 Market Structures Table and Questions
Complete
 the Market Structures Table and Questions in Appendix C.
Post
 your completed table and questions as an attachment.
Click
 the Assignment Files tab to submit your assignment.
Appendix CDifferentiating Between Market Structures Table and Questions
Fill in the matrix and describe differences in public and private goods, common resources, and natural monopolies. Use your book and the Tomlinson video tutorials as a tool to help you answer questions about market structures.  
Example
Is there a rival in consumption?
Is it excludable?
Private Good   
Public Good   
Common Resource   
Natural Monopoly   
1.  What is the difference between a public good and a private good?  
2. What is a common resource?  
3. What is a natural monopoly? 
You'll get 1 file (34.0KB)
More products from UopTutorialStore