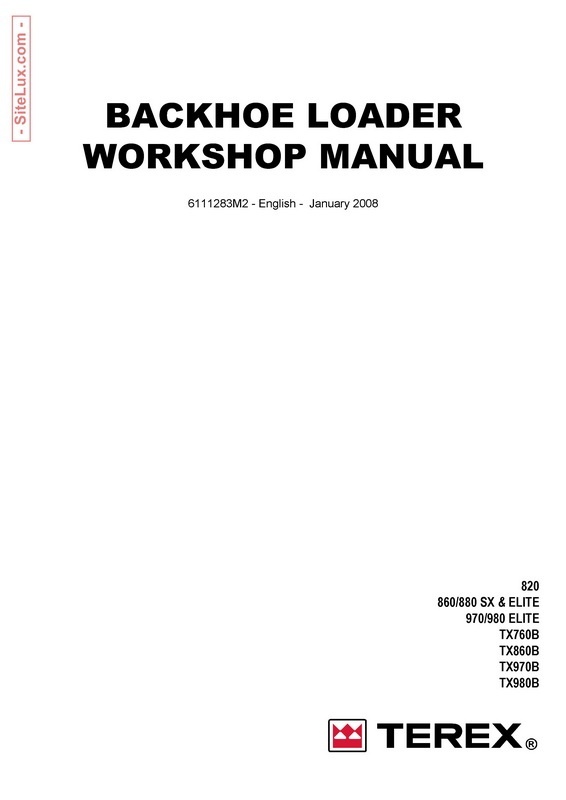 Terex Backhoe Loader 820, 860, 880, 970, 980, SX & Elite Workshop Manual
This is Complete & Official Service Repair Manual for the Terex 820 860 880 970 980 SX & Elite Backhoe Loader.

This Workshop Service repair manual offers detailed servicing instructions and will give you complete step by step information on repair, servicing, preventative maintenance & troubleshooting procedures for your Terex Loader .

This comprehensive service manual features photos and illustrations along with step-by-step instructions that will guide you through the entire repair process. This manual contains all you need to know to keep your Terex Loader working correctly.


Models Coverd :

TEREX 820
TEREX 860/880 SX & ELITE
TEREX 970/980 ELITE
TEREX TX760B, TX860B
TEREX TX970B, TX980B


Engine Covered :

4.4L PERKINS TIER 2 110C-44T ENGINE


Contents :

GENERAL INFORMATION
GENERAL SAFETY
ACCESSORIES
BUCKETS SYSTEM
STANDARD LOADER BUCKET
MULTI PURPOSE LOADER BUCKET
HOSE BURST VALVES
DIGGER QUICK REMOVAL
DIGGER QUICK INSTALLATION
DIGGER BOOM SYSTEM
DIPPERSTICK SYSTEM
DIGGER SWING SYSTEM
STABILIZER LEG SYSTEM
DIPPER HYDRAULIC CYLINDER
HYDRAULIC SYSTEM DIAGRAM
HYDRAULICS/PRESSURE TESTING
HYDRAULIC OIL CONTAMINATION
HYDRAULIC OIL RESERVOIR
OIL COOLER SYSTEM
HYDRAULIC PUMP SYSTEM
BACKHOE CONTROL VALVE BANK
LOADER CONTROL VALVE
CHANGEOVER VALVE
STEERING PRIORITY/UNLOADER VALVE
RIDE CONTROL VALVE
SERVO CONTROL VALVE
FRONT LOADER BEAM
CAB AND FRAME
HEATER AIR DUCTING
AIR CONDITIONING
DRIVERS SEAT
SERVO CONTROL JOYSTICK
OPERATORS ENVIRONMENT
ELECTRICAL SYSTEM
STARTING SYSTEM
CHARGING SYSTEM
BATTERY & ALTERNATOR
WIPER MOTOR SYSTEM
INDICATOR SWITCH
CONNECTOR & COMPONENT
CHASSIS AND BODYWORK
FRONT AXLE AND STEER SYSTEM
WHEELS AND TYRES
DRIVETRAIN SYSTEM
BRAKES SYSTEM
CLUTCH SYSTEM
TRANSMISSION SYSTEM
ENGINE SYSTEM
RADIATOR SYSTEM
FUEL TANK SYSTEM
AIR CLEANER SYSTEM
EXHAUST SYSTEM
THROTTLE SYSTEM
DRAINING & FILLING SYSTEM
BLEEDING & COOLING SYSTEM
HYDRAULIC DIAGRAM
WIRING DIAGRAM



---


You will find that this manual is an indispensable source of detailed maintenance and repair information and is the only service repair manual you will need. It will help you better understand, care for, and overall will lower the repair and maintenance cost for your Terex.

*Detailed illustrations, exploded diagrams, drawings and photos guide you through every service repair procedure.

The Best PDF Manuals Online Includes : Bookmarks + Searchable Text + Index = Fast Navigation And Best Organization !
Exclusive Version ! Clickable Index For Even Faster Navigation !!
You'll get a 38.3MB .PDF file.