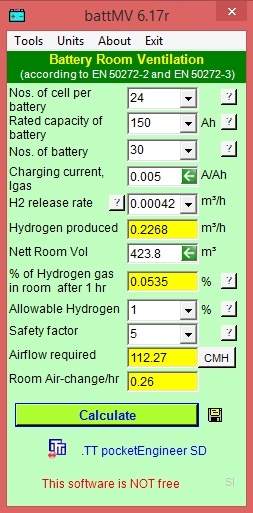 Battery Ventilation Calculation to to EN 50272 Standards
How to calculate ventilation requirements for a battery room?
Design of battery room ventilation using hydrogen concentration dilution method has been made easier with this small Windows PC program, specially designed for engineers & designers.
Highlights:
- battery room ventilation calculations
- by Hydrogen concentration dilution method in accordance to EN 50272-2 & EN 50272-3 Standards
- "Select  & Click" with built-in data like Igas, battery rated capacity, room volume calculator, etc 
- louvre sizer
- save results for printing
- in SI & IP units
Worked example: see website at
https://sites.google.com/view/pocketengineer/windows-os/battmv
You'll get a 1.0MB .ZIP file.
More products from .TT pocketEngineer softDesign