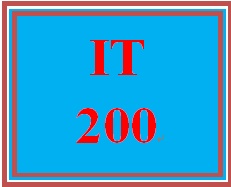 IT 200 Week 1 Supporting Activity: Practice with Productivity Tools
Entire Course Link
https://zh.scribd.com/document/340327850/Uop-Tutorial
 IT 200 Week 1 Supporting Activity: Practice with Productivity Tools 
Work with a classmate, co-worker, friend, or family member using a collaborative productivity tool of your choice.
Test out features such as sharing a screen, sharing a document, and communicate live.
Share with your classmates your thoughts on the product by addressing the following questions:   
Which product(s) did you test?  
What did you like and dislike about it?  
Why was it useful?  
What are some issues that can occur?  
How can you use this in your professional life?
You'll get a 46.0KB .DOC file.
More products from UopTutorials