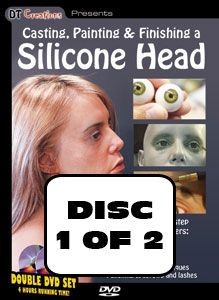 Casting, Painting and Finishing a Silicone Head - DISC 1 OF 2
SAVE 10% ON THE ORIGINAL DVD PRICE!
Running time 1hr 50mins.
This download includes the content of DISC 1 of the DVD package. It features the following lessons:
- Lesson 1: Making acrylic eyeballs
- Lesson 2: Correcting the lifecast and sculpting open eyes
- Lesson 3: Making a matrix mold
You can order the DVD package from
www.dt-creations.net
Full description of the DVD package, please note that some of the following is part of DISC 2 and must be purchased and downloaded separately:
In this video we start where we left off in our previous DVD "Lifecasting a full head" using the fiberglass positive as a model to yield a silicone replica. We start by demonstrating how to make acrylic eyeballs from scratch. We go through the molding and casting process looking at painting techniques to achieve a life-like finish.We end up with hair punching, going through materials and techniques to punch hair, eybrows and eyelashes. Whether you're a beginner or a professional you won't want to miss this complete video guide!
You'll get 1 file (779.5MB)