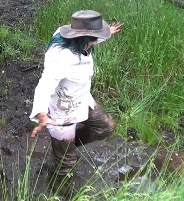 paiges first time
his is the first time that Paige has ever been in  mud, She has gone for a walk on her lunch break dressed in her pink suit and green wellies, but that doesn't stop her jumping straight in up to her knees. As it is raining the mud gets slowly deeper and deeper getting up to the top of her thighs, covering her pale pink trousers and jacket as she wipes her hands on it.

after fighting the mud in the first pool Paige moves to another one where the mud is sticker but not as deep, wading round in it making sure to test all the pools depth. struggling all the time to stay upright.

At the end Paige gets into the river and carefully washes off the mud and filling her wellies. on leaving the rivers Paige slowly empties her wellies of the dark muddy water.
You'll get a 1.1GB .M4V file.
More products from wellies women mess