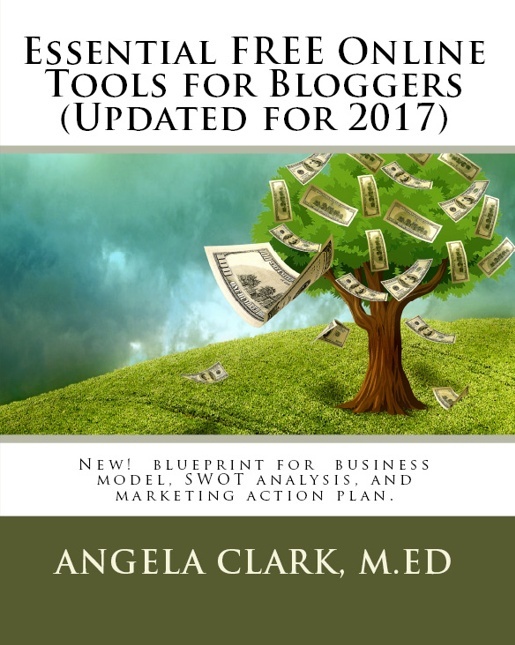 Essential FREE Online Tools for Bloggers
The number one question bloggers and social media microbloggers ask is "What tools can I use to perform a specific task without spending an arm and a leg or taking a course to do it?"
  This e-book is the answer to that question. This e-book recommends easy to use, free, and low cost tools that can help bloggers perform specific tasks. You will be able to create key word content, beautiful graphics, logos, videos, podcast, and more on your blogs and social media channels: Facebook, Twitter, Instagram, LinkedIn, Snap Chat, etc.           
In addition, this 2017 edition includes sample marketig tools: blueprints for your business model, SWOT analysis, marketing plan, and an idea calendar for your success.   
This e-book includes:
1. Over 270 tools categorized into subjects with short descriptions and links to each tools' website.  2. A checklist of basic fundamentals for any blog. 3. In addition, a bonus ten-page workbook for organization and efficiency.  4. Business Model, 5. Swot analysis, 6. Marketing Action Plan 7. Idea Calendar, and 8. Private label license available to include this e-book in your projects.  ALL FOR 1.99 for each copy.  Receive a discount if you share on your social media.  Order Now through secure Sellfy and PayPal.

Essential Blogging Tools For Influencers (Sample of categories covered)
ANALYSIS TOOLS


ACCESSIBILITY TOOLS


CONTENT AND TOPIC IDEAS/RESEARCH/KEYWORDS


COLLABORATION/FILE SHARING/MEETINGS


FTP CLIENTS


BLOGGER PLATFORMS/DOMAIN/THEMES


ORGANIZATION


TIME AND PROJECT MANAGEMENT


SOCIAL MEDIA DISTRIBUTION


GRAPHIC PHOTOS VIDEOS POD-CASTING TOOLS


GREAT PLUGINS FOR WORD PRESS


FIND GUEST BLOGGERS


EMAIL CAMPAIGNS/SURVEYS


AFFILIATE NETWORKS


BEST ANTI VIRUS /MALWARE/SPYWARE/SPAM /CACHE PREVENTION


E-COMMERCE/DIGITAL GOODS/ SHOPPING CARTS/AFFILIATES


GROW A BRAND-FINDING INFLUENCERS/BLOGGER HANDLERS/TRACKER


WEB HOSTING/ DOMAIN NAMES


HEAT MAPS


TOP SEARCH ENGINES AND SOCIAL MEDIA  NETWORKS


MOBILE AND MICRO-BLOGGING


LEGALITIES


CROWDFUNDING


BLOGGER'S CONFERENCES/TRADE ASSOCIATIONS


RESOURCES  AND MORE….


You'll get a 1.7MB .PDF file.