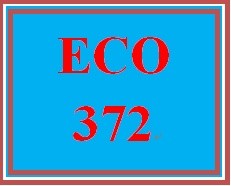 ECO 372 Week 1 participation Principles of Macroeconomics, Ch. 1: Ten Principles of Economics
Entire Course Link
https://zh.scribd.com/document/340327850/Uop-Tutorial
ECO 372 Week 1 participation Principles of Macroeconomics, Ch. 1: Ten Principles of Economics 
Consider the following as you read:   
Consider how to describe the four determinants of productivity.  
Consider how to explain how higher saving leads to a higher standard of living. What might deter a policymaker from trying to raise the rate of saving?  
Consider how the rate of population growth influences the level of GDP per person. 
You'll get 1 file (31.0KB)
More products from UopTutorials