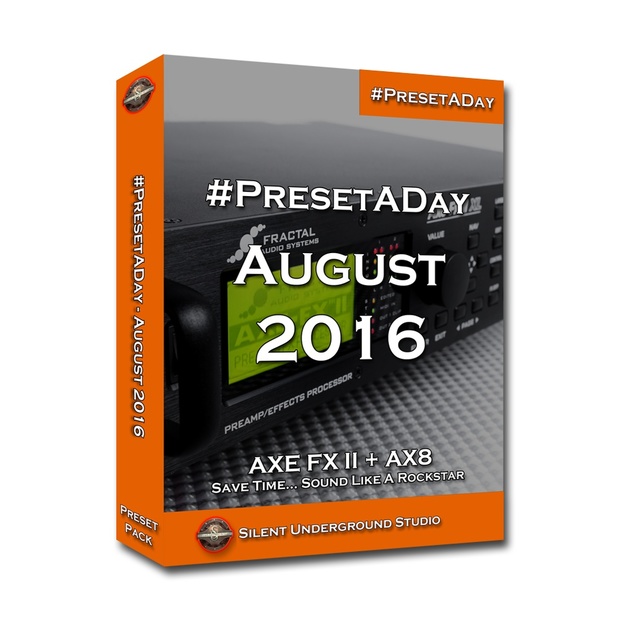 #PresetADay - AUGUST 2016 (FAS)
All 30 Days of August #PresetADay presets + 10 previously unreleased !!Hear the demos HERE
: 
http://goo.gl/dfuHwk
Set up for:
Direct to DAW, Studio monitors, FRFR, Direct to FOH use
Firmware:
Quantum 3.03 or higher.
Model:
AXE FX II, AXE FX II XL, AXE FX II XL+, AX8
Cabinet IRs:
Uses a custom Cabinet IR - Included
Scene Switching:
 4 scenes to switch between Clean, Crunch, Rhythm and Lead
Presets Include:
JS410 Crunch RED
JS410 Lead Orange
JS410 Lead Red
Nuclear Tone
ODS-100 Ford MD
ODS-100 HRM
ODS-100 HRM Mid
Plexi 50W 6550
Plexi 50W Hi 1
Plexi 50W Hi 2
Plexi 50W Jump
Plexi 50W Normal
Plexi 100W 1970
Plexi 100W High
Plexi 100W Jump
Plexi 100W Nrml
PVH 6160 Block
PVH 6160+ Lead
PVH 6160+ Rhythm
PVH 6160+ Rhythm B
Recto1 Org Modern
Recto1 Org Norm
Recto1 Red Modern
Recto2 Org Modern
Recto2 Org Vintage
Recto2 Red Modern
Recto2 Red Vintage
Shiver Lead
Solo 88 Lead
Solo 88 Rhythm
Solo 99 Lead
Solo 100 Lead
Solo 100 Rhythm
Spawn Nitrous 1
Spawn Nitrous 2
Spawn Rod OD1-1
Spawn Rod OD1-2
Spawn Rod OD1-3
Spawn Rod OD2 -1
Spawn Rod OD2-2
Please Note: 
All August presets require our custom #PresetADay Cabinet IR. Included for FREE. The cab is the same for each preset so no need to reload the IR if you have already downloaded another preset this month.
The Cabinet IR is a custom blend of a Mesa Boogie Rectifier 4x12 with Vintage 30 speakers and a Marshall 1960b with Vintage 30 speakers. Both mic'd with a Shure sm57 and a Sennheiser MD421. Both Console EQ and Notch Flitering have been applied to remove any weird resonant peaks and muddy / harsh frequencies.
All August #PresetADay presets using 'Scene Switching' to change amp tones through Clean, Overdrive, Rhythm and Lead.
Scene 1
= Clean
Scene 2
= Overdrive
Scene 3
= Rhythm
Scene 4
= Lead
Disclaimer:
Please first know HOW to use your hardware / software BEFORE purchasing our products. They are made to work in any standard AXE FX II / AX8 setup without the need for additional external processing. No refunds are given on digital products.
You'll get 1 file (1.5MB)
More products from Silent Underground Studio