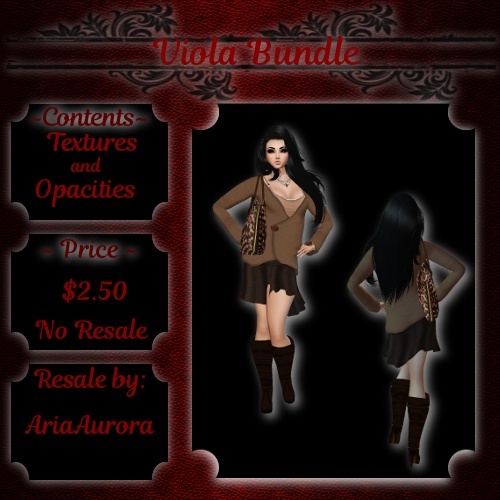 Viola Bundle -- No Resale
I have MASTER RESALE RIGHTS BY: AriaAurora!!!!
-This Files made by AriaAurora she has
PSD
OF all!!
** YOU ARE NOT ALLOWED TO RESELL THESE FILES!!! **
-Use Only on one IMVU Acc.
-You must provide IMVU name when purchased.
-Dont Claim this files as your Work.
-You can Edit As much you Like.
-Please Massage me IMVU name where you use file!
-ONLY FOR IMVU Game Dont Transfer it to any Other Virtual game!
-You get CKN for easy Upload!!
-Happy Creating Mandy(PeanutSkye) <3
Please use this pn your product page since she is the creator of these items!
AriaAurora banner:
<a href="
http://www.imvu.com/shop/web_search.php?manufacturers_id=35543966&r=acw
" target="_blank"<img src="
http://i61.tinypic.com/20jnytk.jpg
" border="0"</a<br
You'll get a 2.5MB .ZIP file.
More products from Skye Creations