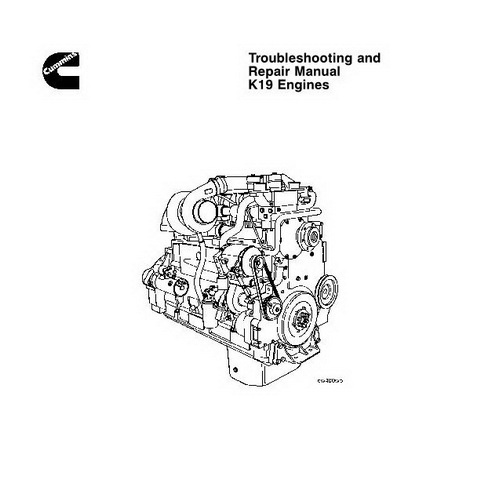 Cummins K19 Engines Troubleshooting and Repair Manual
This manual provides instructions for troubleshooting and repairing the K19 Engine in the chassis.

This Troubleshooting and Repair Manual is intended to aid in determining the cause of engine-related problems and to provide recommended repair procedures. The manual is divided into sections. Some sections contain reference numbers and procedure numbers. The reference numbers provide general information, specifications, diagrams, and service tools, where applicable.


---

TABLE OF CONTENTS :

Introduction
Engine Identification
- General Engine Specifications
- Engine Diagrams
Troubleshooting
- Procedures and Techniques
- Symptoms List
- Symptoms Cause and Corrections Charts
Engine Systems Repair
- Cooling
- Lubricating Oil
- Combustion Air
- Compressed Air
- Fuel
- Electrical
- Base Engine Components
Engine Testing ("In-Chassis")
Engine - Remove and Install
Engine Component Specifications
Alphabetical Index
Additional Service Literature
Accessory Component Manufacturers
Literature Survey Form


---

MANUAL SPECIFICATION :

File Format : PDF
Language : English
Printable : Yes
Searchable : Yes
Bulletin No. : 3810307-00
Total Pages : 713
You'll get a 41.9MB .PDF file.